March 20, 2017
Aurora Borealis in Iceland
I saw the Northern Lights and a shit load of waterfalls - it was amazing!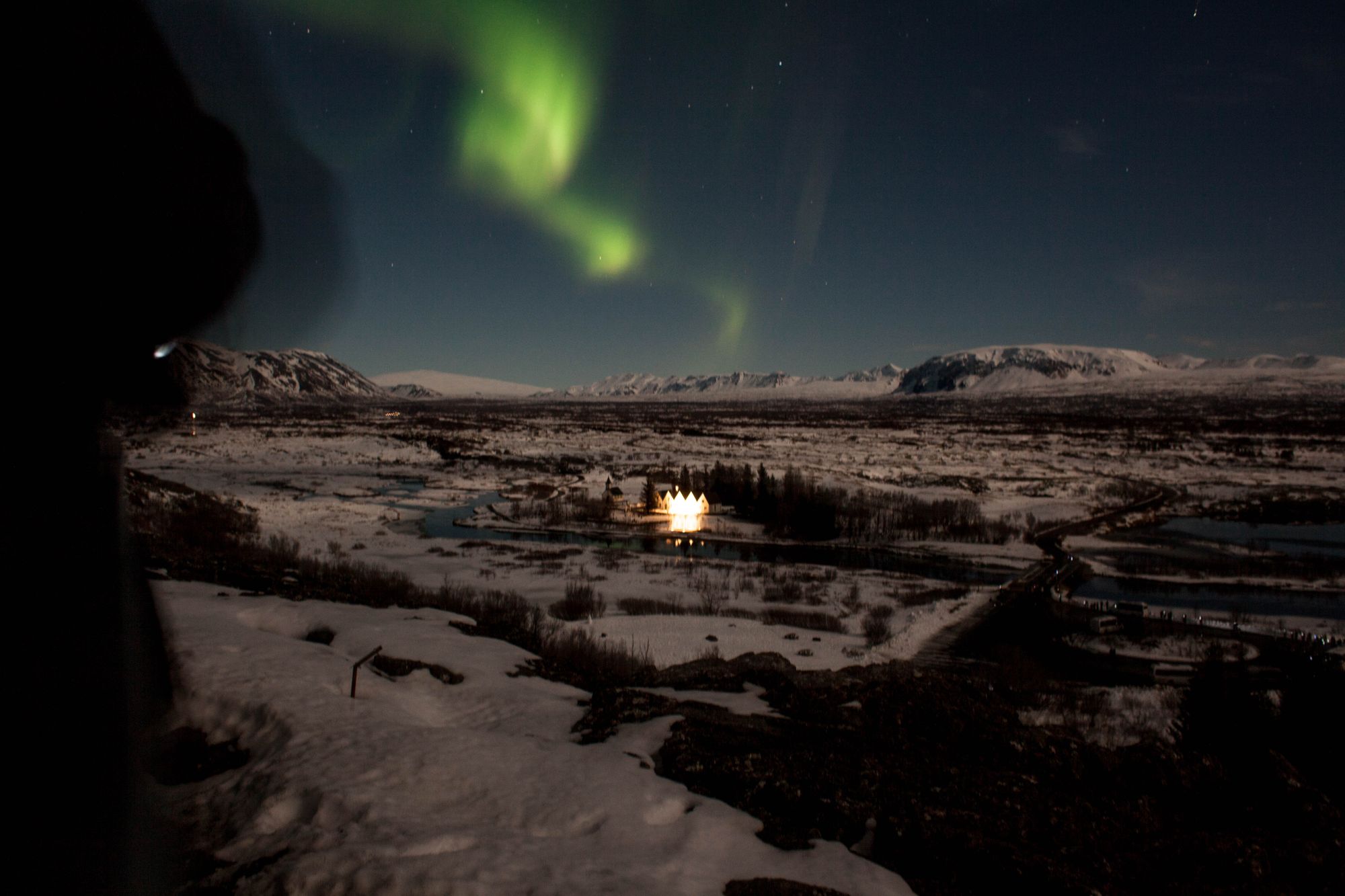 Reykjavík
Arriving in Iceland in March after a record amount of snow, I headed to a cosy base in the suburbs of the capital, Reykjavík. First impressions: the buses are crazy, the apartments are cosy and the beer is very expensive.
It seemed fitting to spend the first day exploring the city a little, drinking coffee, and walking on a frozen lake for the first time. This year so far, between my trips to Mexico
and Iceland alone, I have swam in freshwater, walked on a frozen lake, walked under a waterfall and bathed in a natural hot spring; all firsts for me!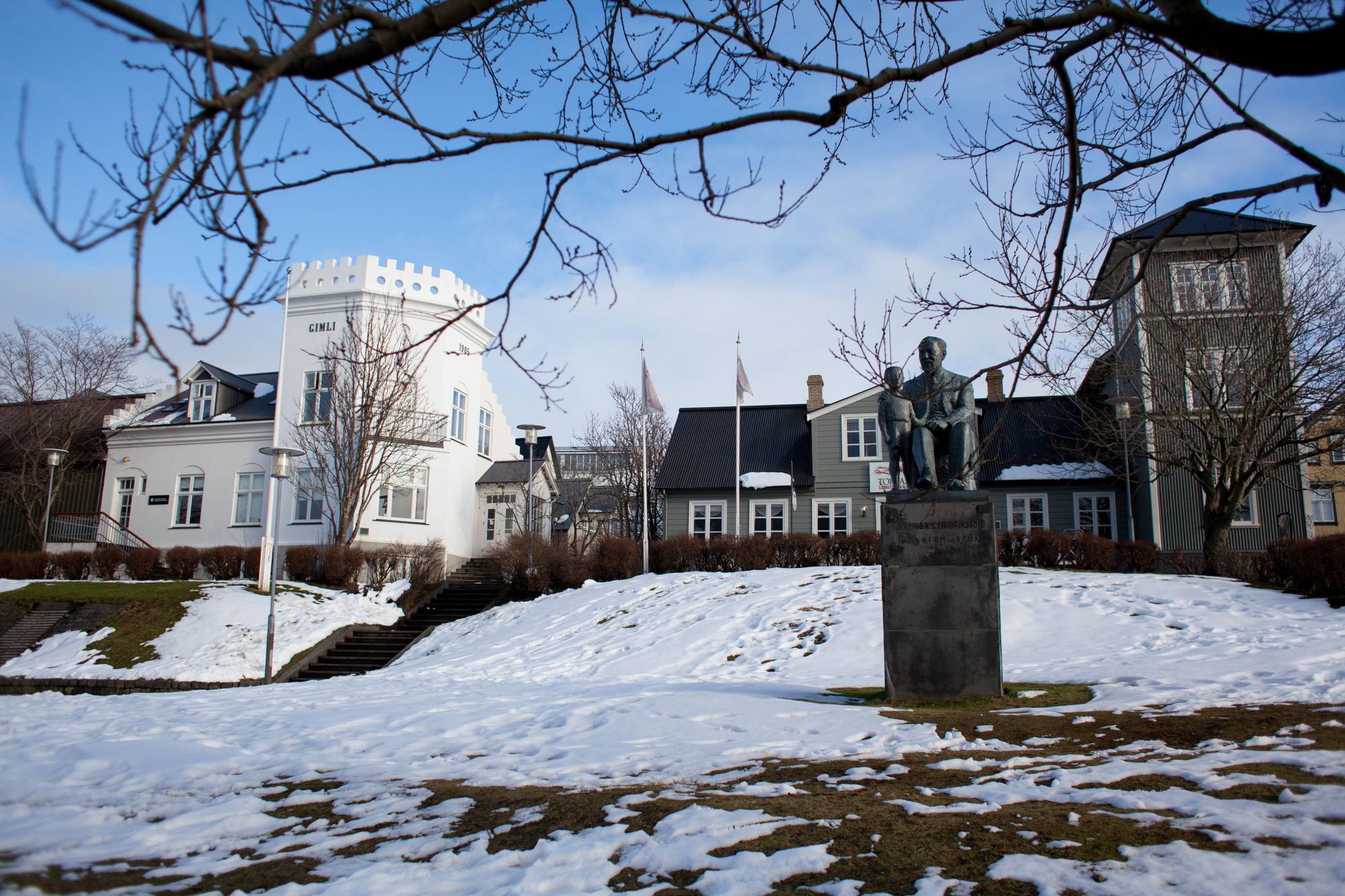 Esjan
It's so unique being in a city that is surrounded by a volcanic mountain range.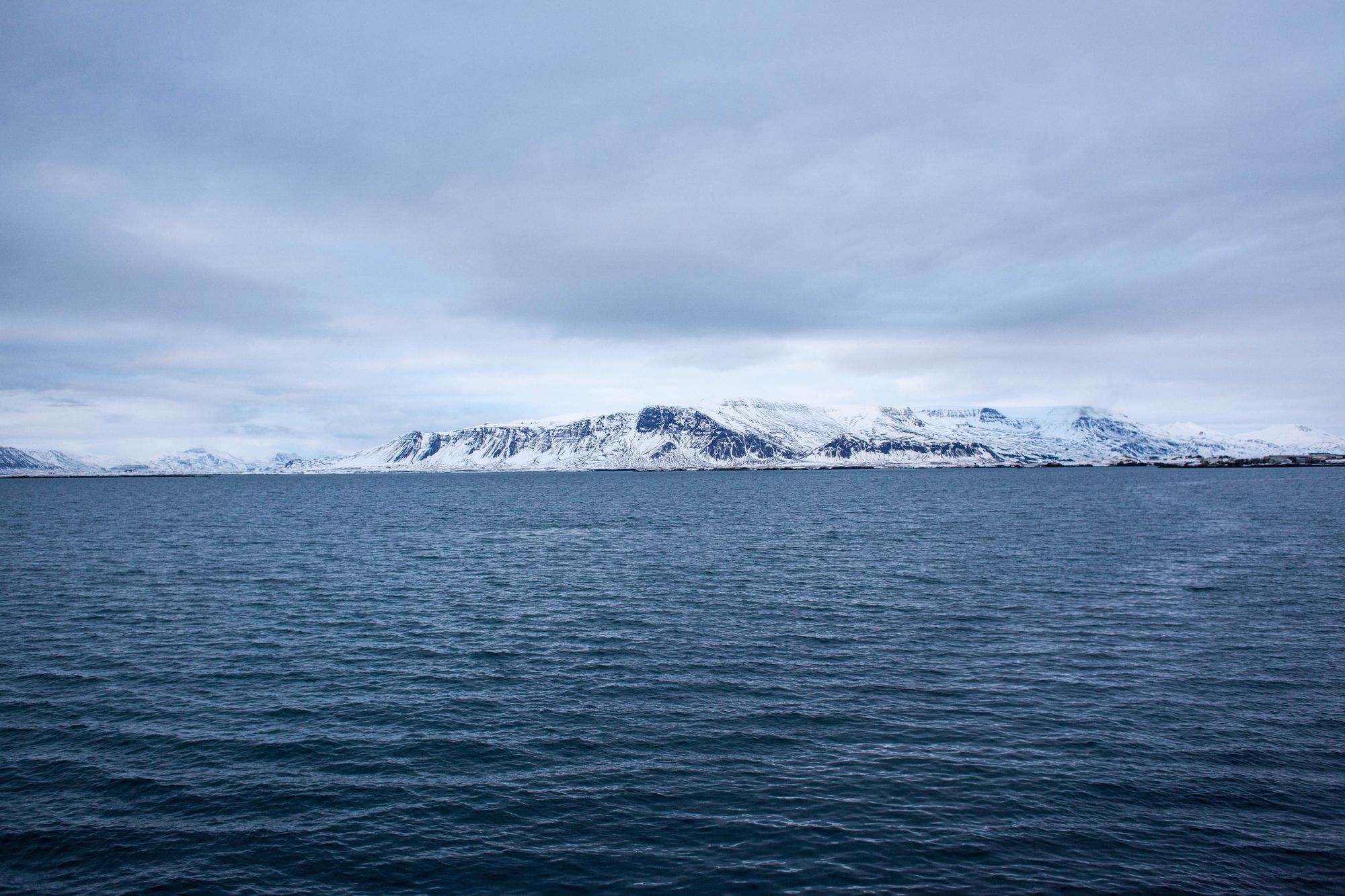 Coffee, duh!
I always seek out good specialty coffee where I can. We really liked Reykjavík Roasters. We also met Blair here (pictured below), a barista who gave us some sweet tips for Iceland, including how to navigate happy hour for "cheap" beer. I use the term cheap loosely, because we're talking £5 for a beer, rather than £10. I was visiting during my 28th birthday so had a few happy hour pints to celebrate.
Takk Blair!
Interesting fact: Alcohol was banned in Iceland for many years, from 1915 until 1st March 1989 for strong beer and liquor. Icelanders actually voted for this in a referendum! Beer is now the most popular alcoholic beverage and celebrated on 'beer day' on March 1st.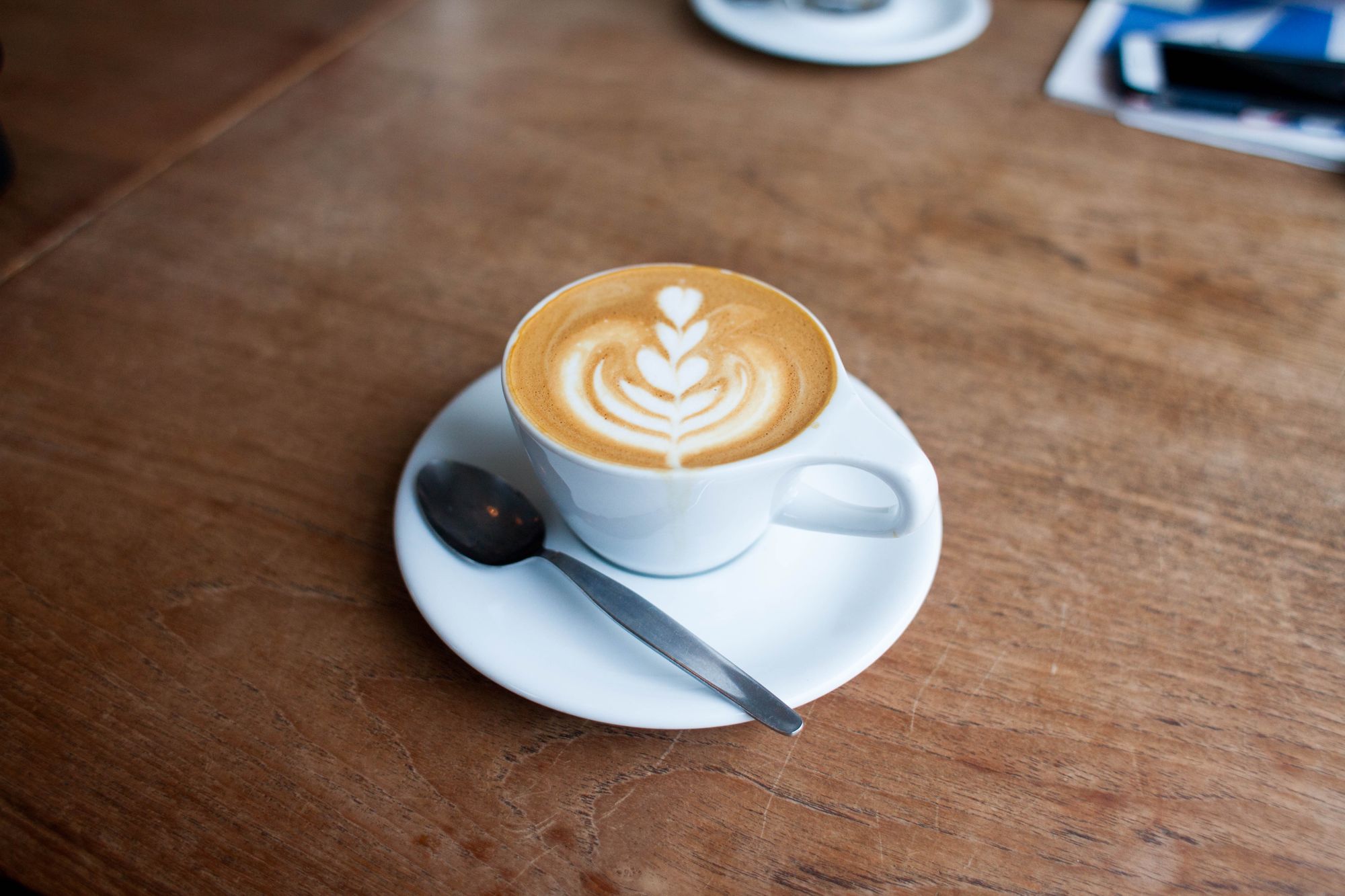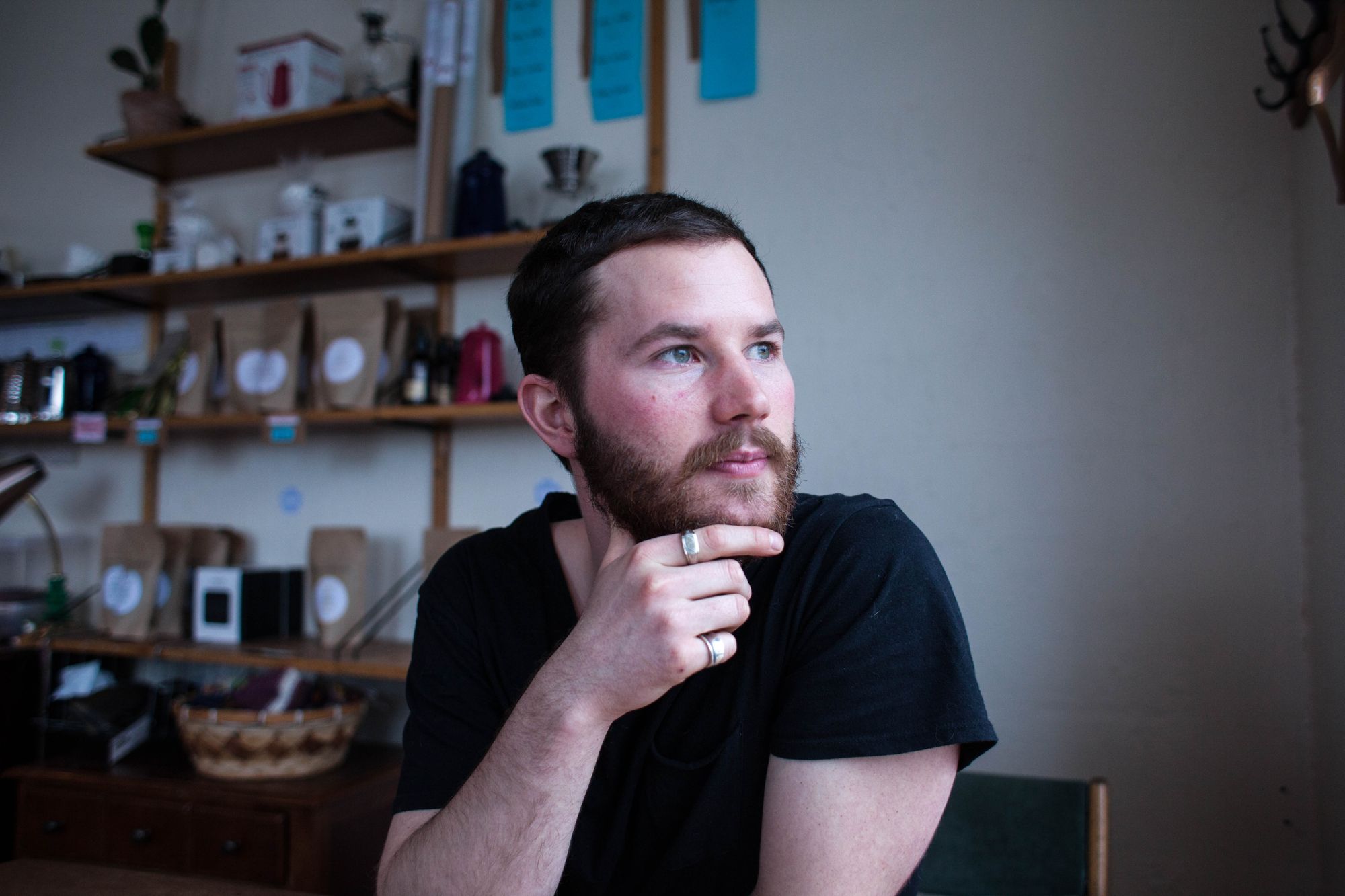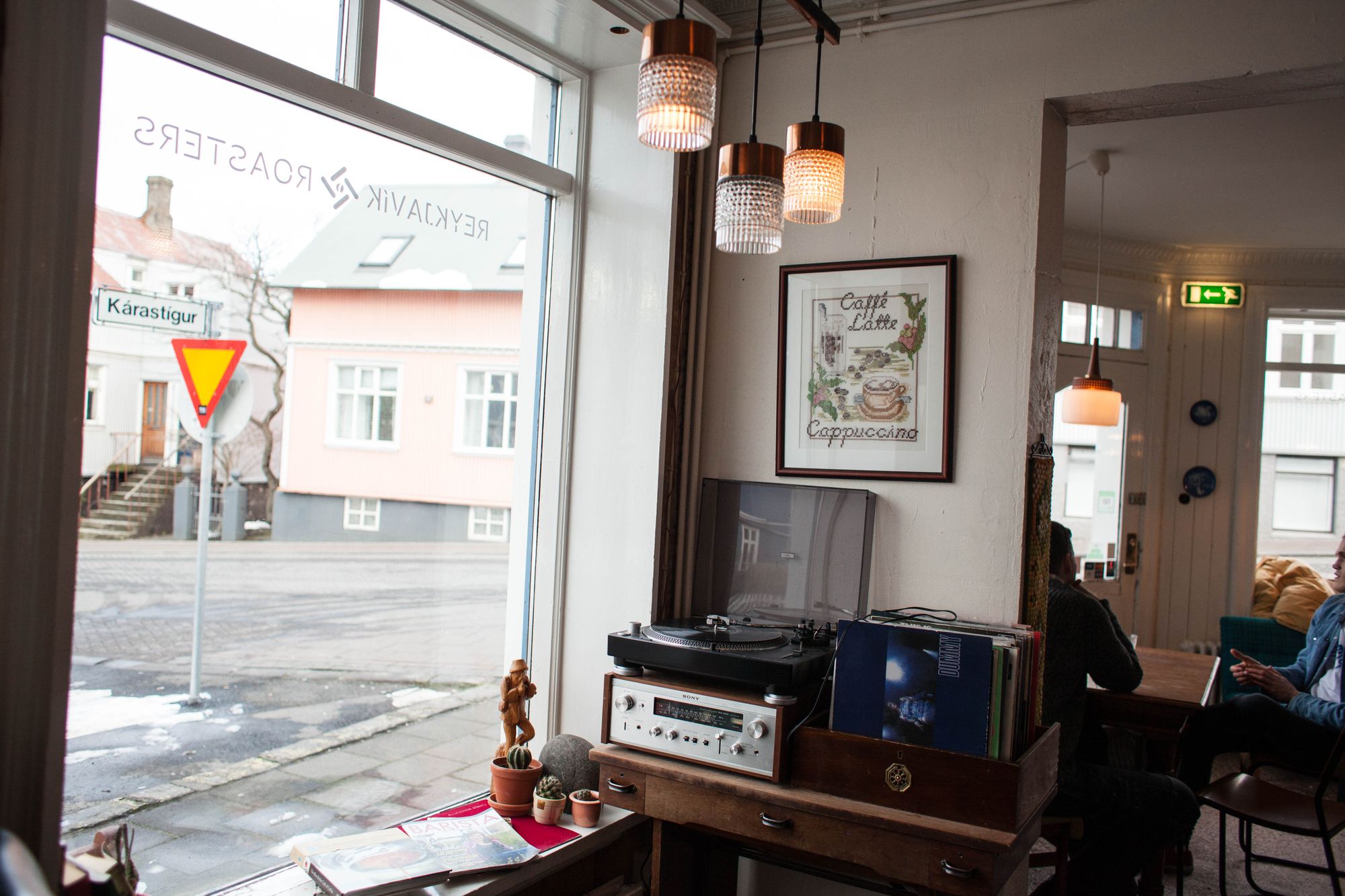 Aurora Borealis
I have always wanted to catch the northern lights and I didn't expect to be so lucky as to do so on my first attempt. Nothing can really prepare you for this. It's the most beautiful, unpredictable and mind-blowing experience!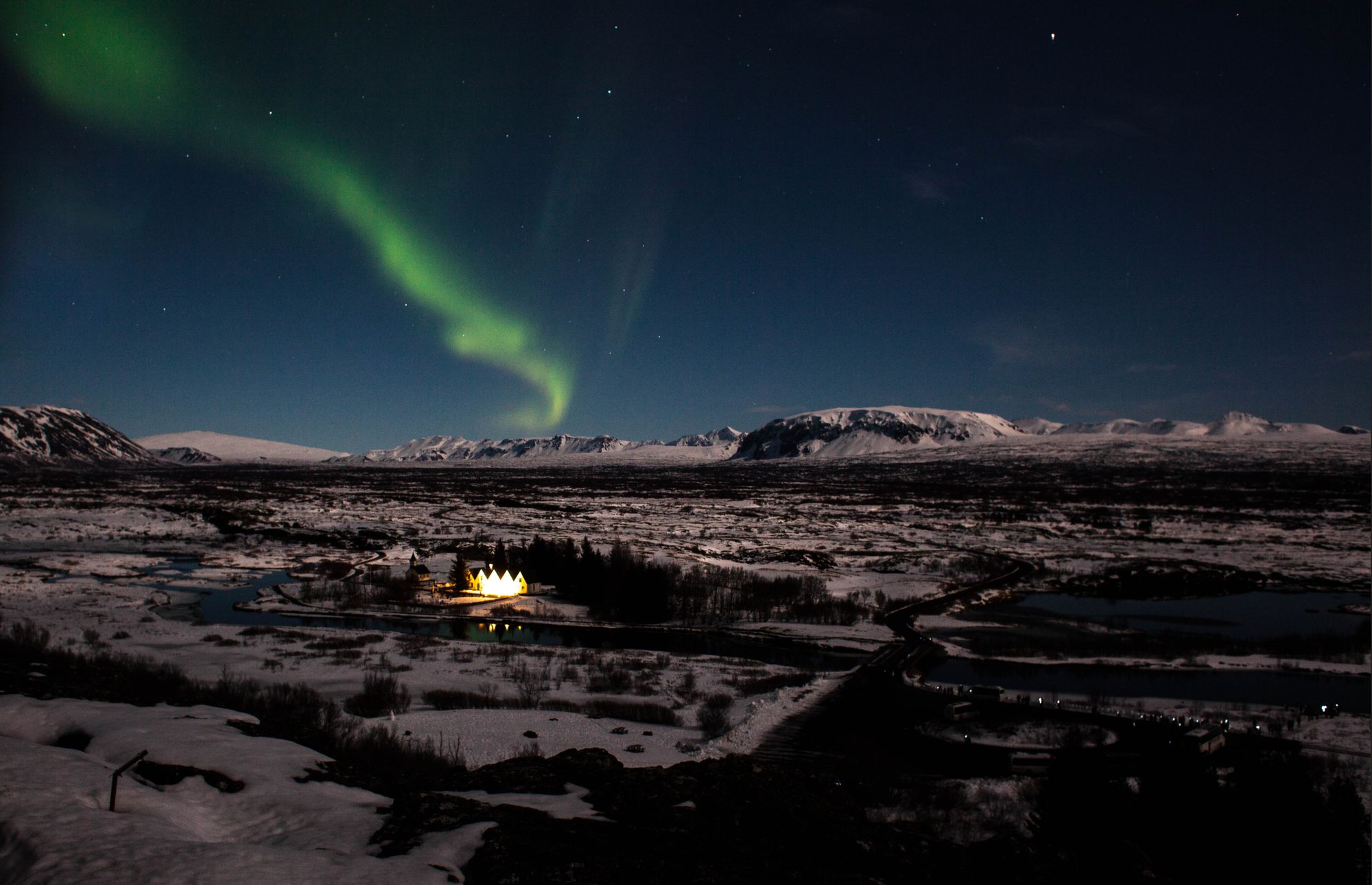 We decided to pay for a tour, because we didn't really know what to look for, or where to look. Turned out to be worth it. We went in a coach with a guide who explained everything you needed to know about the Northern Lights. Our guide also told us to pray to the trolls and the elves. Another interesting fact, many Icelanders believe in elves, and many more believe they are important for tourism ;).
They took us to the best spot that night for visibility. You can check out the forecast on this website, and also see the cloud coverage on an hourly basis. It's crazy how well scientists can predict the weather with precision. It's even crazier how, even with all of this knowledge and experience, the Aurora is still completely unpredictable and will come and go when it pleases.
That's what makes it so magic!
We found a looking spot in Þingvellir National Park, and sat and waited in the cold for about 1.5 hours. I spent this time staring into the darkness, watching the clouds clear exactly as they were supposed to, and taking a few long exposures of the landscape (pictured left). I wasn't even really sure what I was looking for... but then I saw it, a vertical line of light appeared in the west. I pointed it out and people were starting to get excited, until there were cheers all over the hillside.
The lights moved so slowly and majestically, dancing over our heads and to the north. Quite easily one of the best experiences of my life.
On the road
With some city exploration & the Northern Lights ticked off, it was time to pick up a car and hit the road. Even if just for a few days, this is highly recommended providing the weather isn't totally dangerous. The roads are easy to navigate, traffic is minimal and the views are incredible.
First stop: The (not so) secret lagoon
We decided not to go to the Blue Lagoon. Controversial I know. I read somewhere that over a million tourists visit Iceland every year, which is triple the countries own population(!). Many of these tourists will visit the Blue Lagoon. Not that I am against being around other tourists (difficult to avoid in any of the hot spots around the country), but we fancied something different.
Our lovely AirBnb host Johann recommended the 'secret' lagoon, so that was the first destination on the road trip weekend.
It's a beautiful, quiet & natural spa in Flúðir. You can even walk around the pool and check out all of the hot springs in action. Even though this spot is frequented by tourists, there's no queues, rush or production line to get you through the naked showering experience.
Iceland are big on hygiene, so at all pools (natural or otherwise) you are supposed to get naked and wash yourself properly before getting in. I did spot some British girls covered in fake tan and make-up, barely approach the shower before they got in... I've heard that in some pools there are 'guards' who tell you off for not washing in the buff! I was secretly hoping that would happen to them, but don't tell anyone.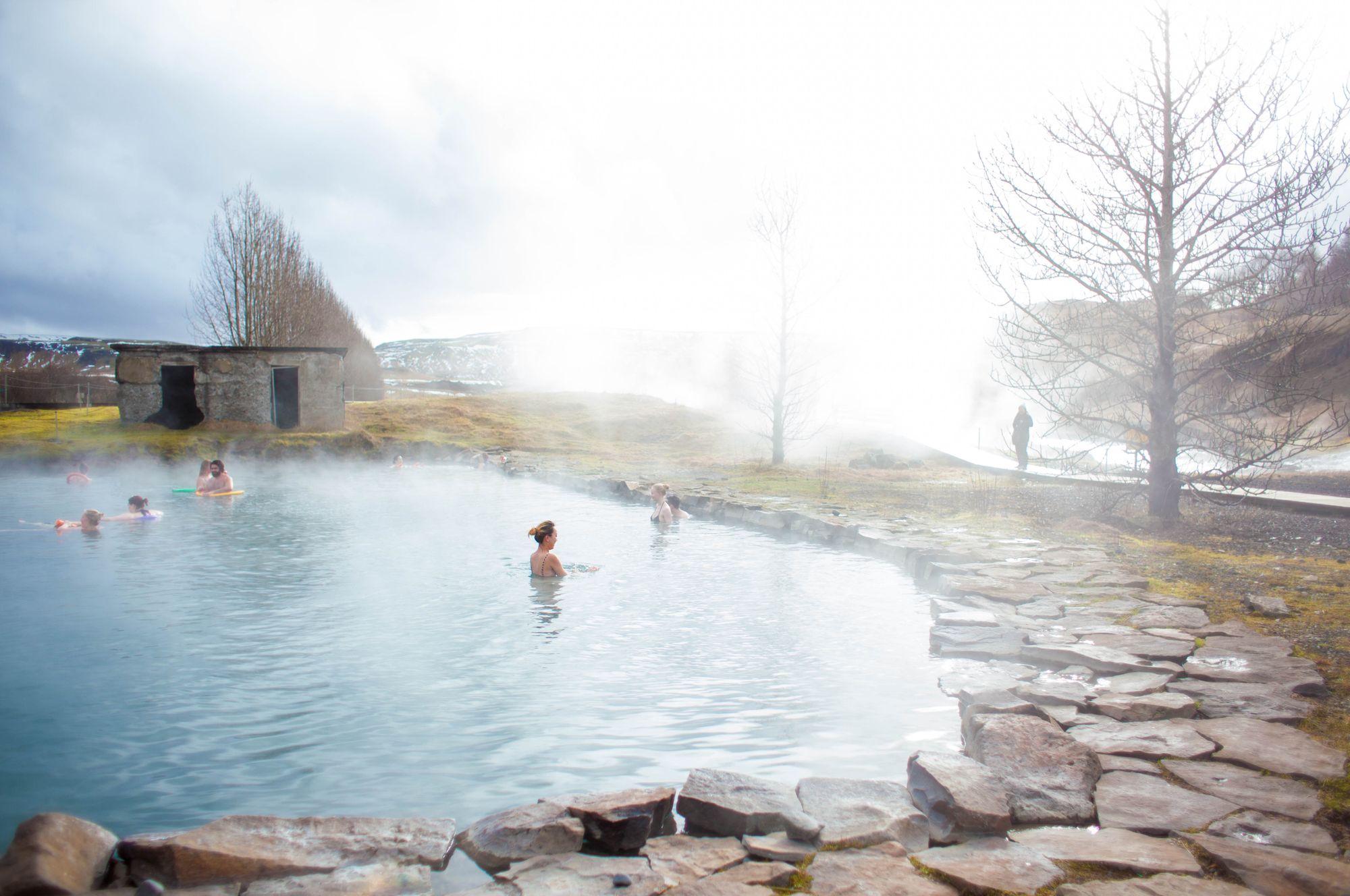 Strokkur
Feeling refreshed, we continued the theme of "oh my god I can't believe there's BOILING water bubbling from the grounds surface" by visiting an active geyser. It's so much fun waiting for these things to blow and trying to get a good photo. The smell of sulphur isn't quite so bad out in the open either.
Fun fact: 90% of hot water supply in Iceland is natural, piped up from the ground. As a result, taking a shower smells a little bit like boiled egg. (A lot like that, actually).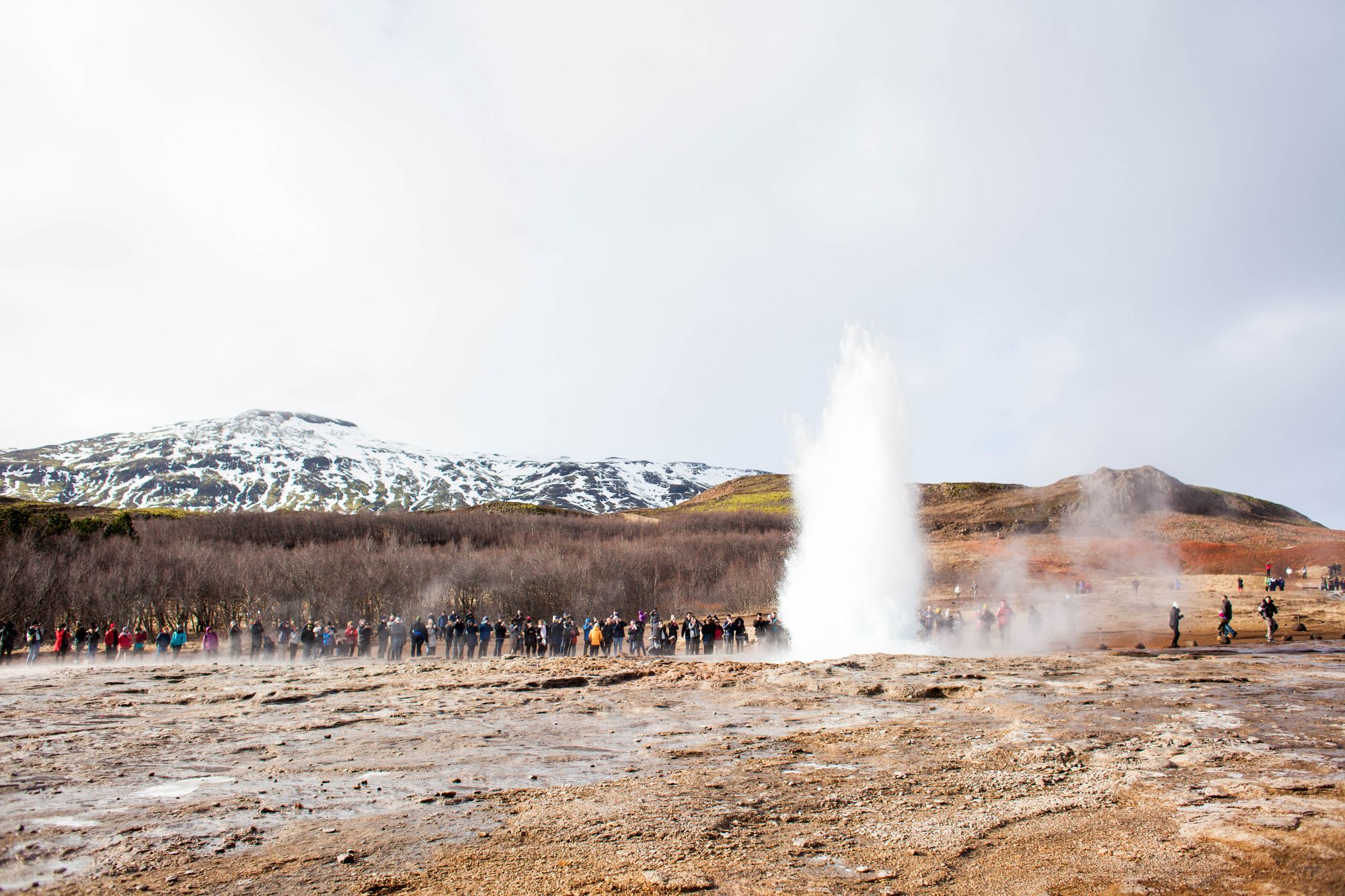 Gullfoss
A very popular tourist stop––easy to see why! This is the first big waterfall I've ever seen so I was impressed nonetheless.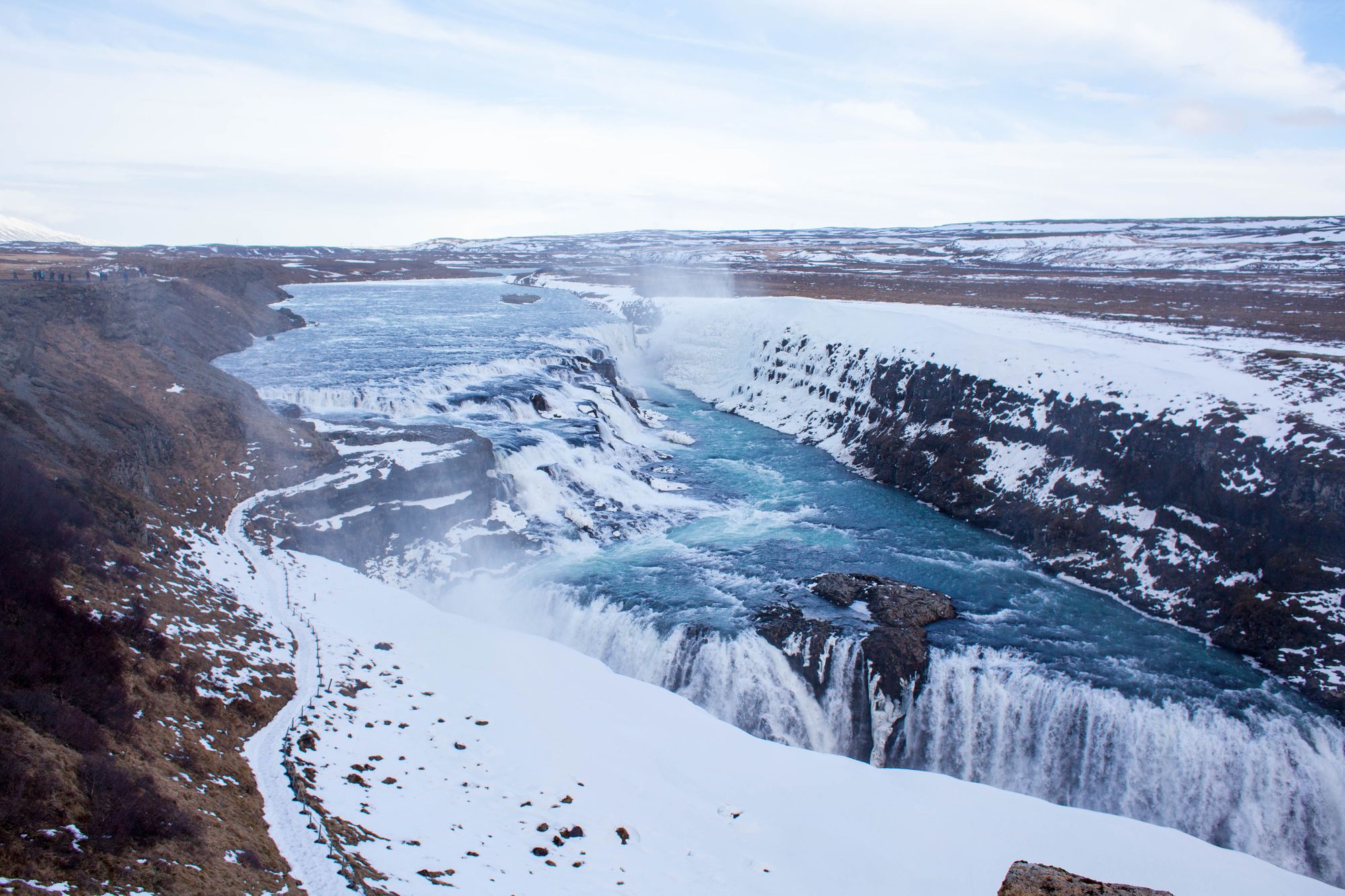 Stopping for views
Driving in Iceland is a surreal experience. It's fairly desolate, with long stretches between towns and civilisation. It's like wandering through a moody dream land.The weather changes constantly at this time of year, and the landscape just feels so big and open. One minute it's bright and clear, and the next it's dark and moody, with a storm laying heavy in the sky.
The land is so flat, but there is always a volcanic mountain range in sight. It really is a spectacle. As such, it's impossible not to stop at every given opportunity to take in the views and breathe the fresh air!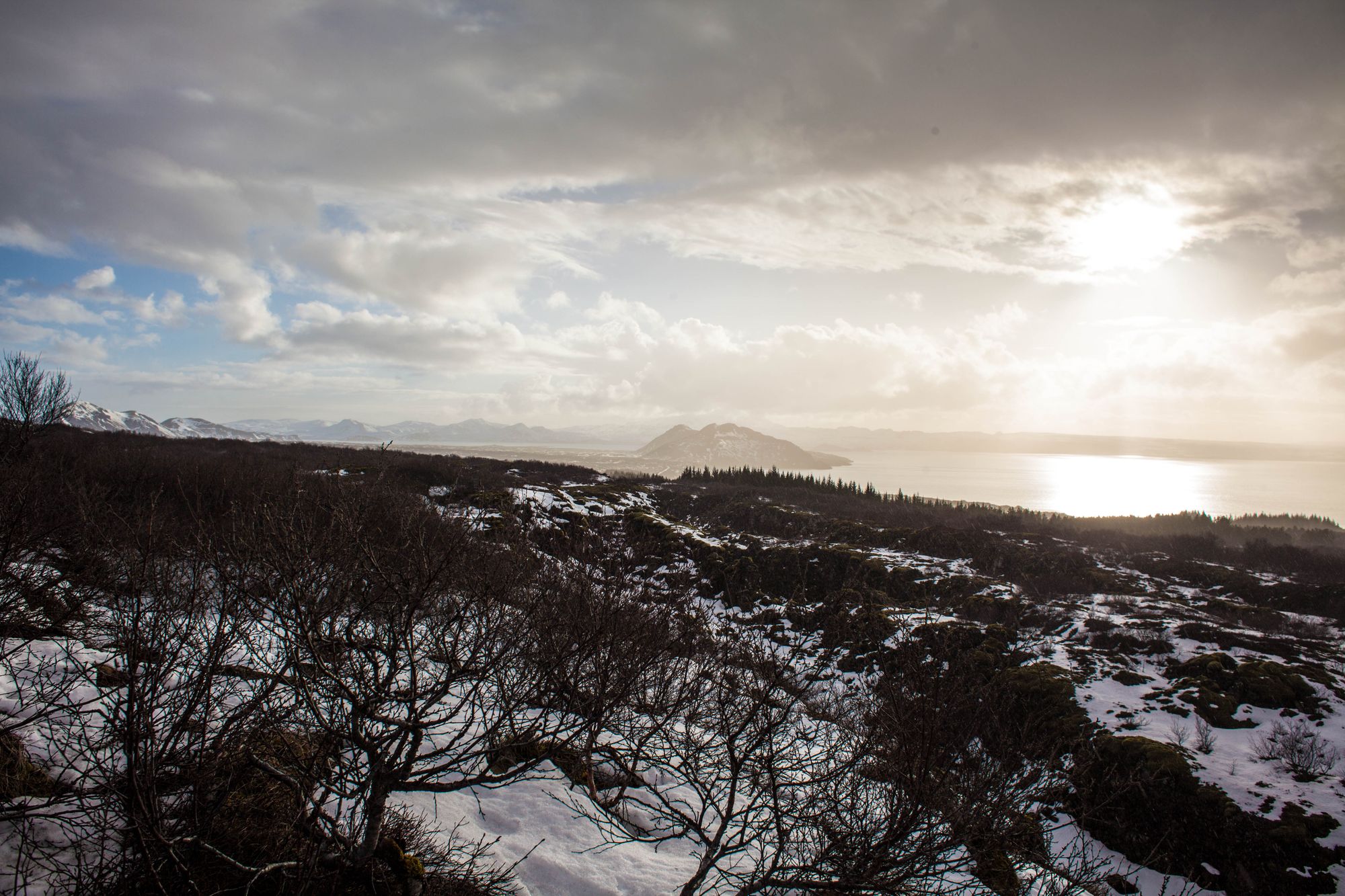 Þingvellir by day
After witnessing the Aurora at Þingvellir just a couple of days into the trip, we decided to return to see it in the daylight. If you're into Geology then this place is a sight for sore eyes. The park actually marks the Mid-Atlantic Ridge and the boundary between the North American tectonic plate and the Eurasian tectonic plate.Plus, it's cool as fuck for hiking and taking photos. If you get your walking boots on you can escape the 'hustle' from the golden circle tours and soon find yourself surrounded by nature and not much else.
My knowledge of Geology is minimal but it was still really interesting, and the views were just the icing on the cake!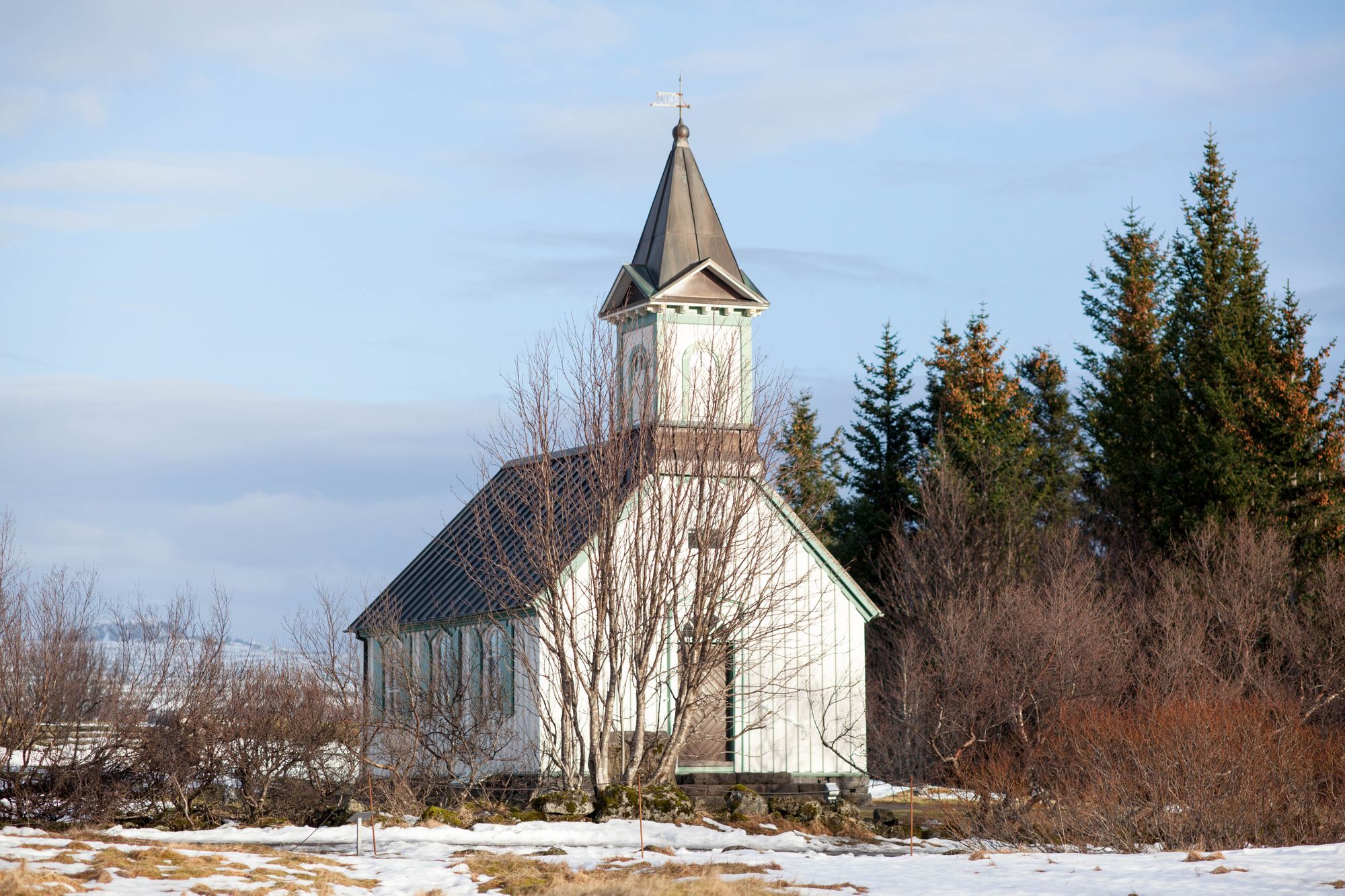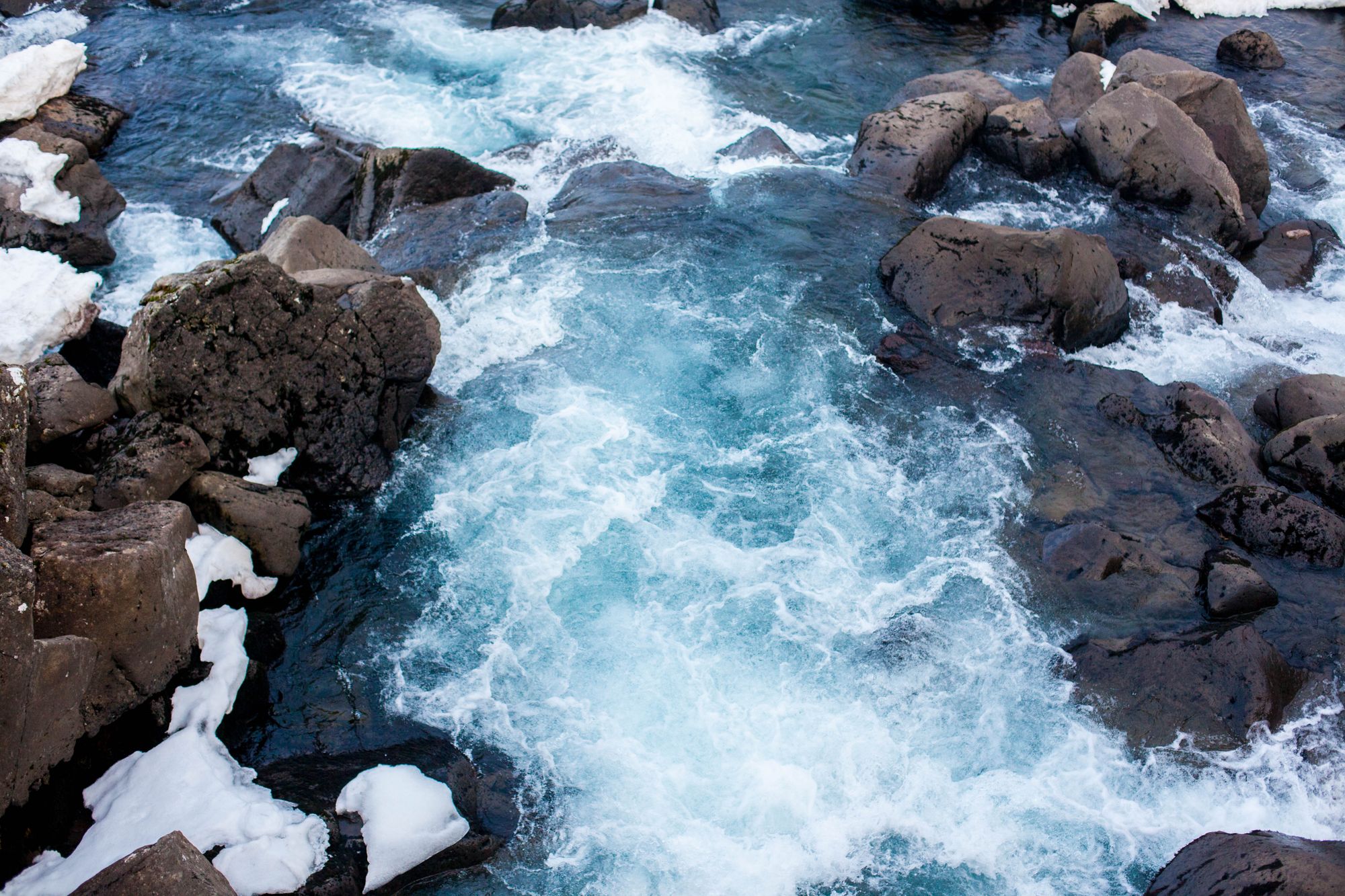 Exploring the south coast
Soon came the final day of the trip. We had planned to spend a couple of days relaxing and hanging out in Reykjavík. But after speaking to a Norwegian friend who has explored Iceland extensively, our minds were changed.
I didn't want to do more driving so we opted to pay for a day trip with a guide to explore the south coast of Iceland.
The tour guide was awesome. He was very knowledgeable and wanted to tell us everything he knew. He covered so many topics––volcanos, farming, history, culture. All with great enthusiasm and a wry sense of humour.I mostly opted for this because the route we took from Reykjavík to Vik is some 200 kilometres, and I didn't fancy more driving where I couldn't take the scenery in.Doing at least one tour comes highly recommended. By all means drive, but spend some time being shown around by an Icelander if you can––you won't regret it.
Eyjafjallajökull
On our way to the Skógafoss waterfall, we took a quick pit stop to take a look upon Eyjafjallajökull, where the volcanic eruption happened in 2010 that disrupted air traffic across Europe. Our guide was trying to highlight just how spectacular a volcanic eruption is, by explaining that this one was pretty small, but it still caused so much disturbance. Apparently, they are waiting for one of the larger volcanos to blow any time soon. It's going to be huge, and the Icelanders embrace this and look forward to it.I found it amusing that most volcanos in the country have masculine names, apart from the most powerful and feared volcanos, which have feminine names!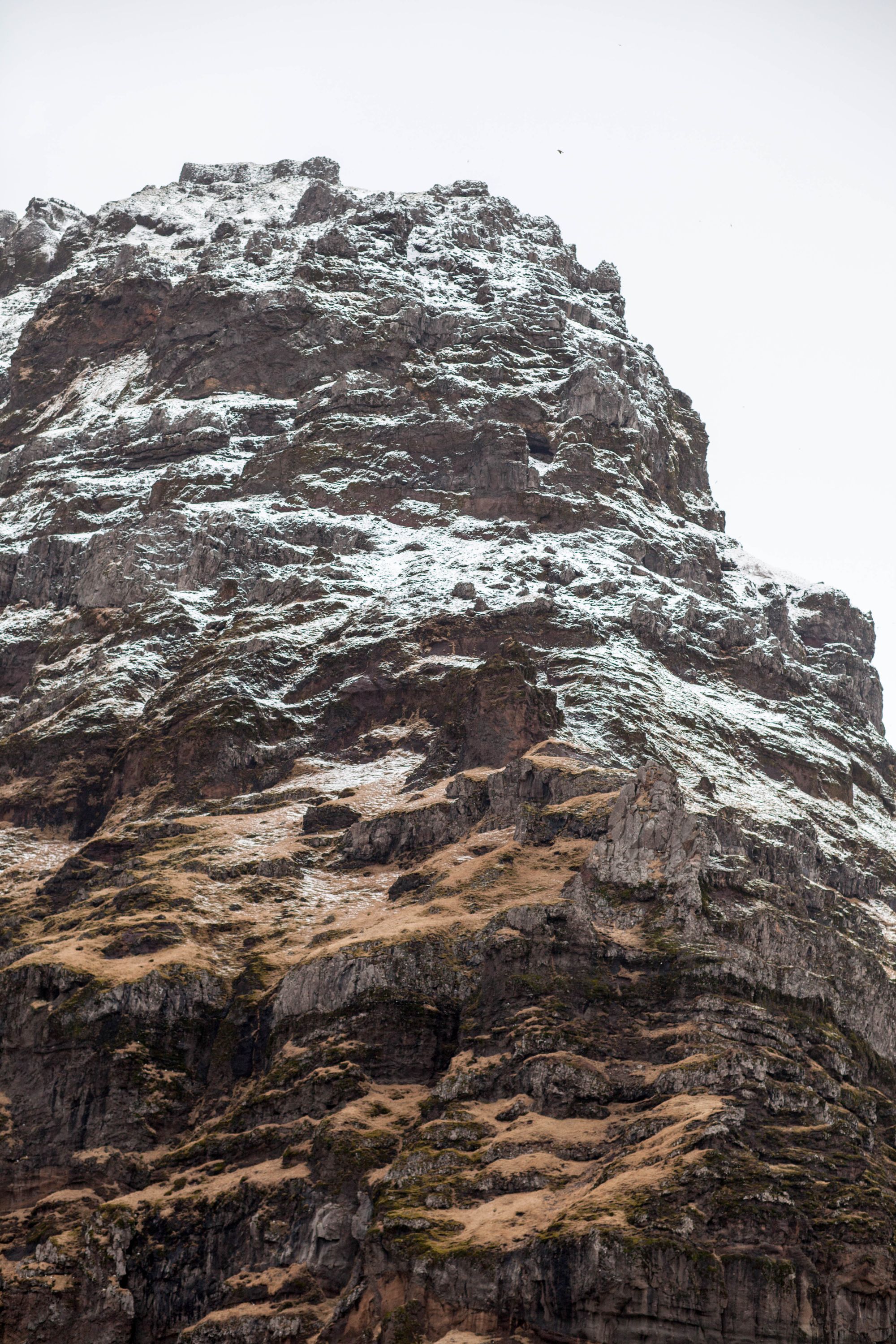 Skógafoss
Then we arrived at Skógafoss waterfall and even from the road it looked incredible. This is an exciting waterfall because you can get right up close to it. I did, and I got soaked!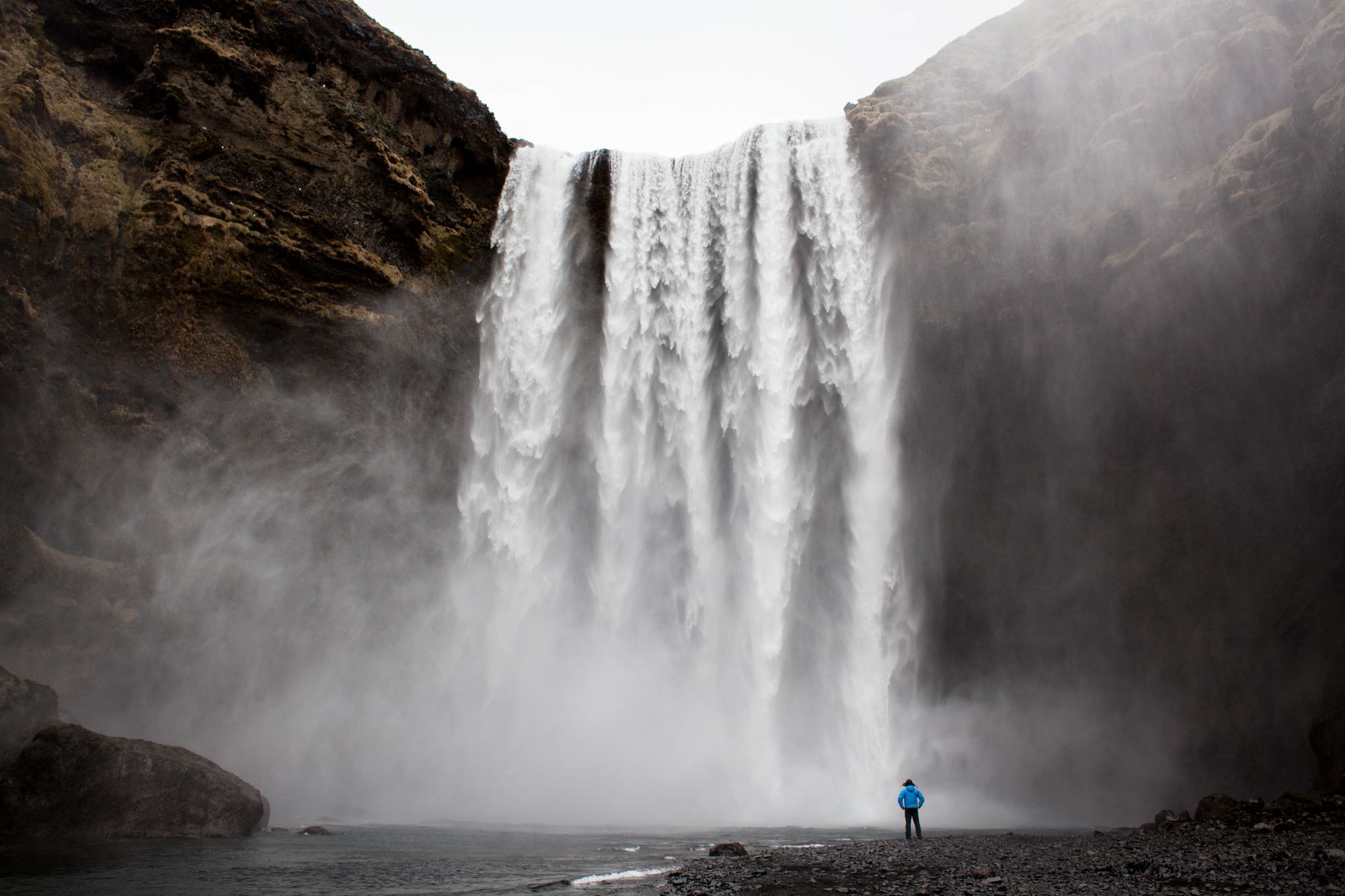 Vik & Halsanefshellir Beach
The most Southern stop on our trip was at Vik, to eat lunch and check out the black sandy beaches. Apparently people surf at Vik during some parts of the year. The winds were very high this day though, so the sea was looking incredibly powerful and fierce.
Quite a lot of tourists base themselves in Vik, there's plenty of Airbnb's here. It's very beautiful.After this we nipped down the coast to Halsanefshellir Beach, "the most dangerous beach in Iceland". A popular tourist spot where people want to check out the basalt rock columns (pictured below, bottom right). Here, the sea becomes even more fearsome, with two currents colliding. In the high winds, the waves were huge, I've never seen the ocean look like this before, I was mesmerised.
This is why this beach is dangerous. Unpredictable waves can sneak in and wash you away, and due to the strong currents, you'd never be able to get back.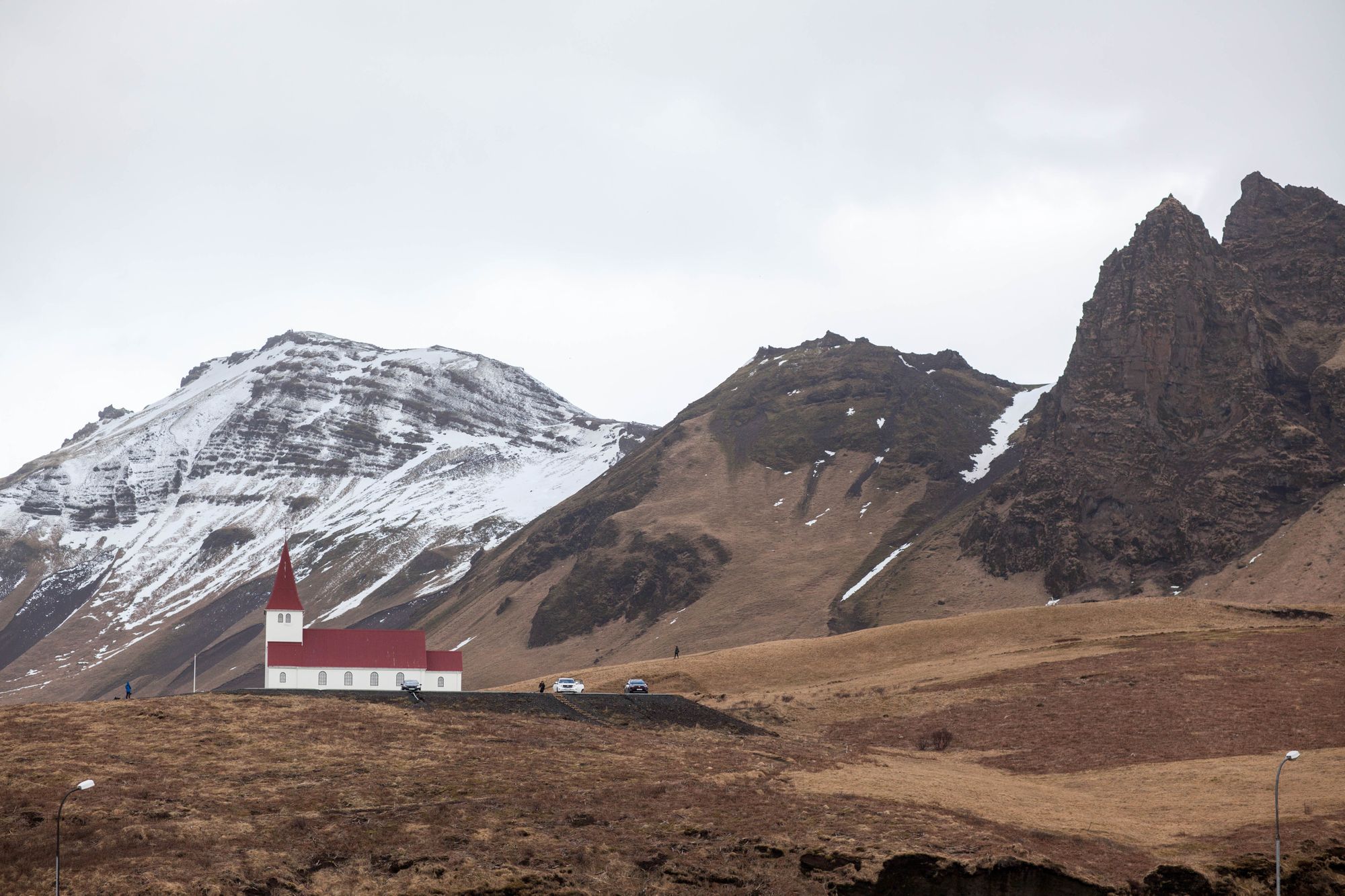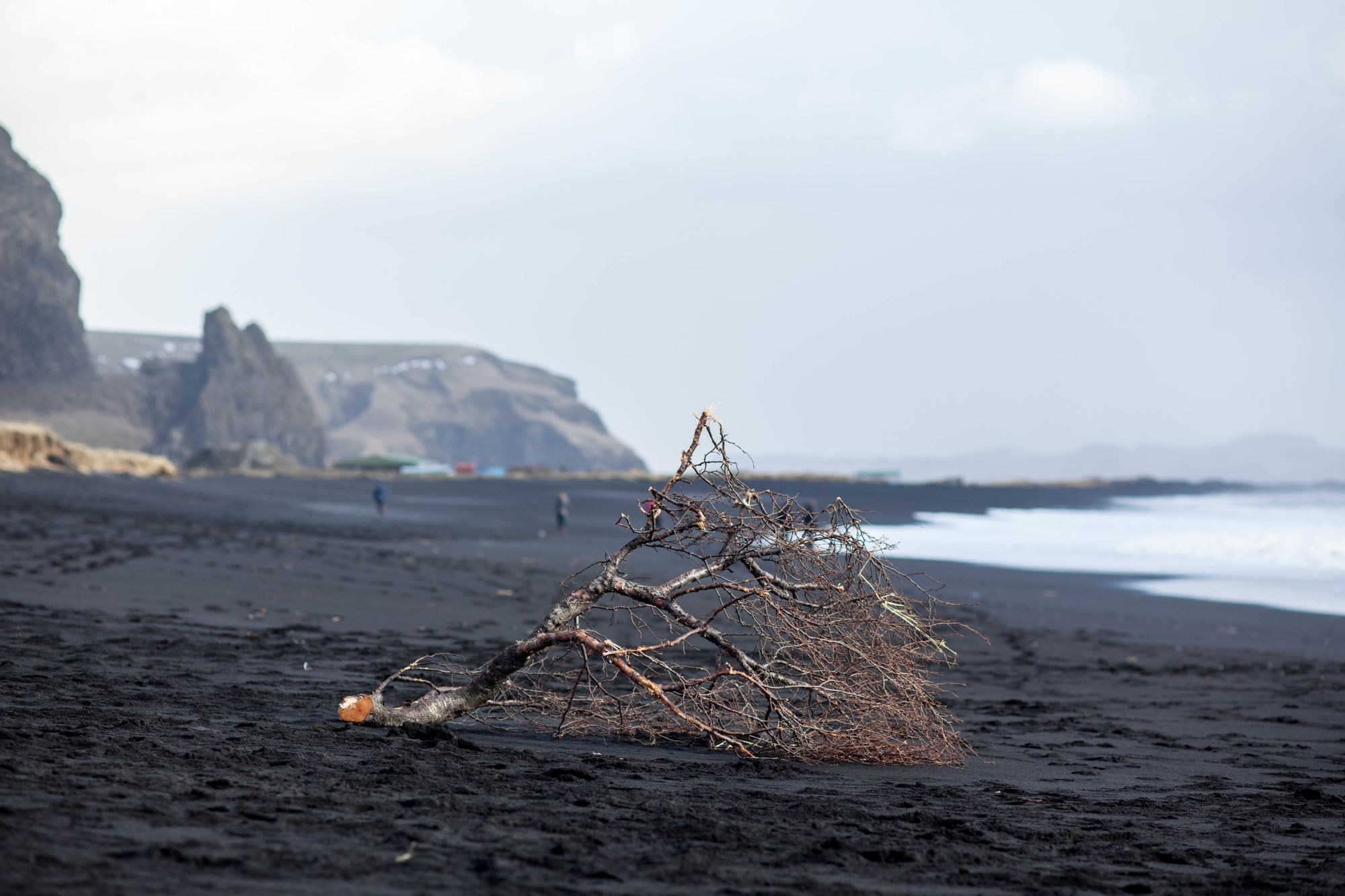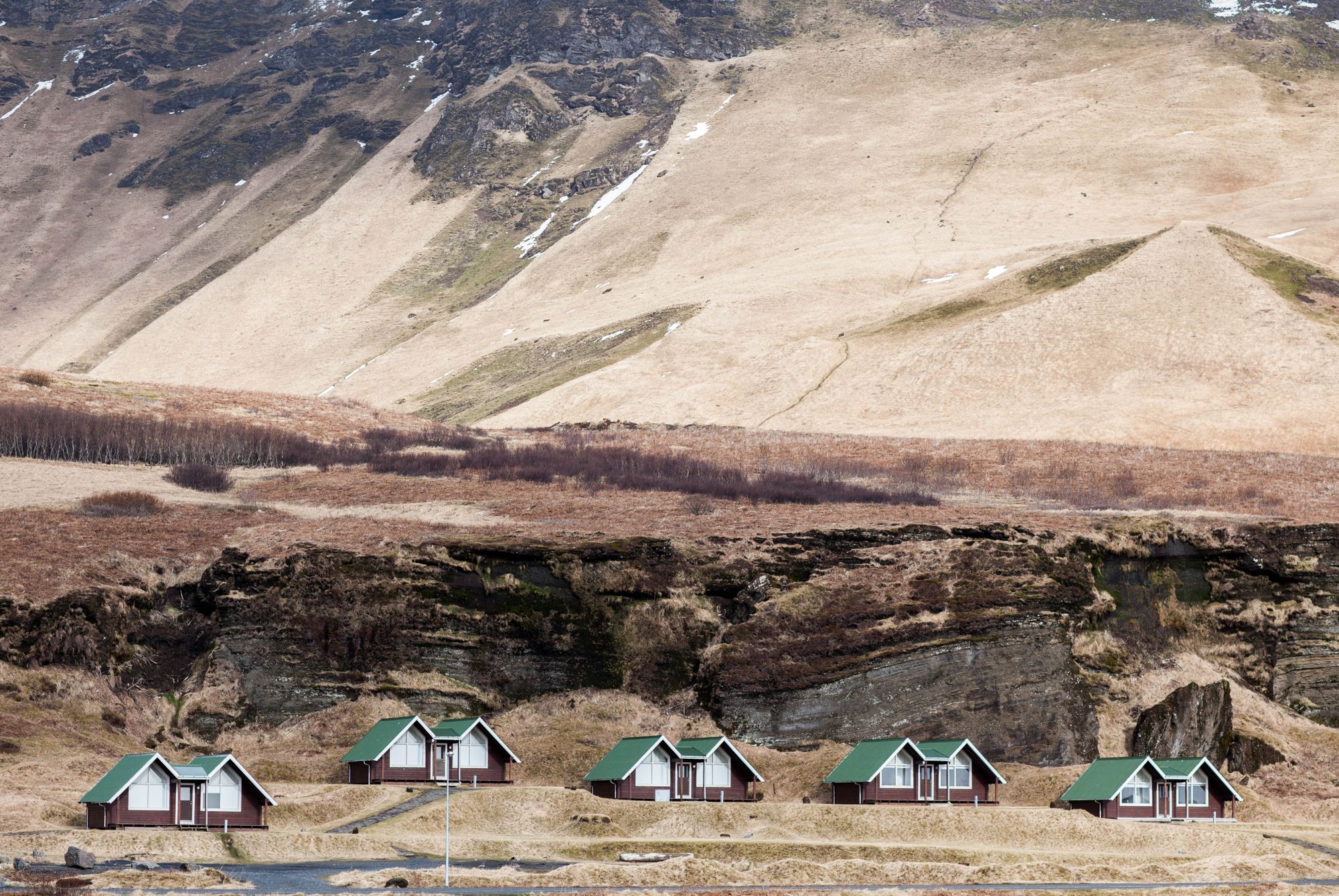 Dyrhólaey
The drive up here is treacherous, especially in high winds. Fortunately we were in an off-road bus (never seen one before in my life until this day), and our tour guide wanted to throw this in. (Ssshhh, don't tell his boss).It was breathtaking up here. If you are planning a trip I would put this spot high on your list.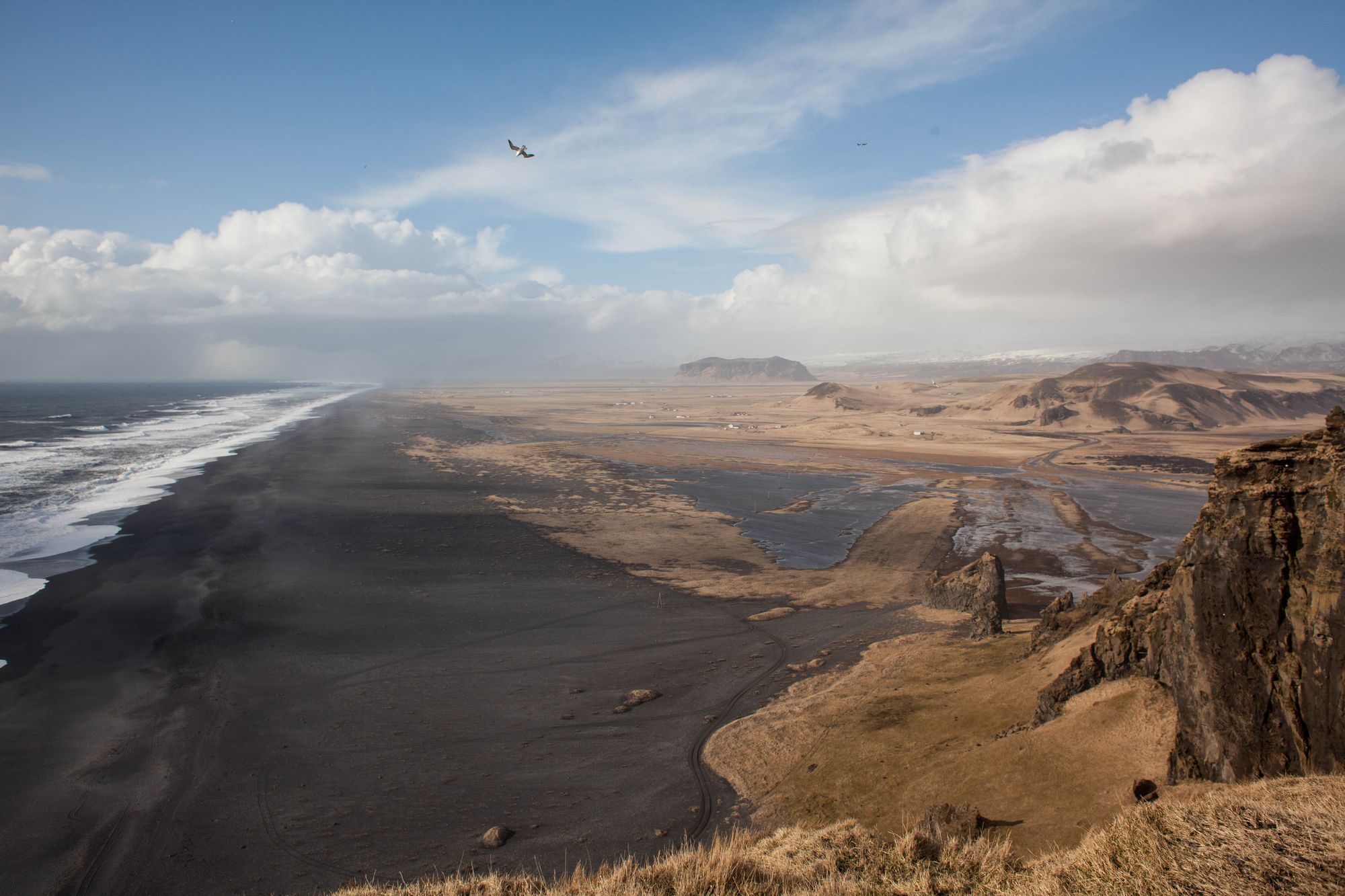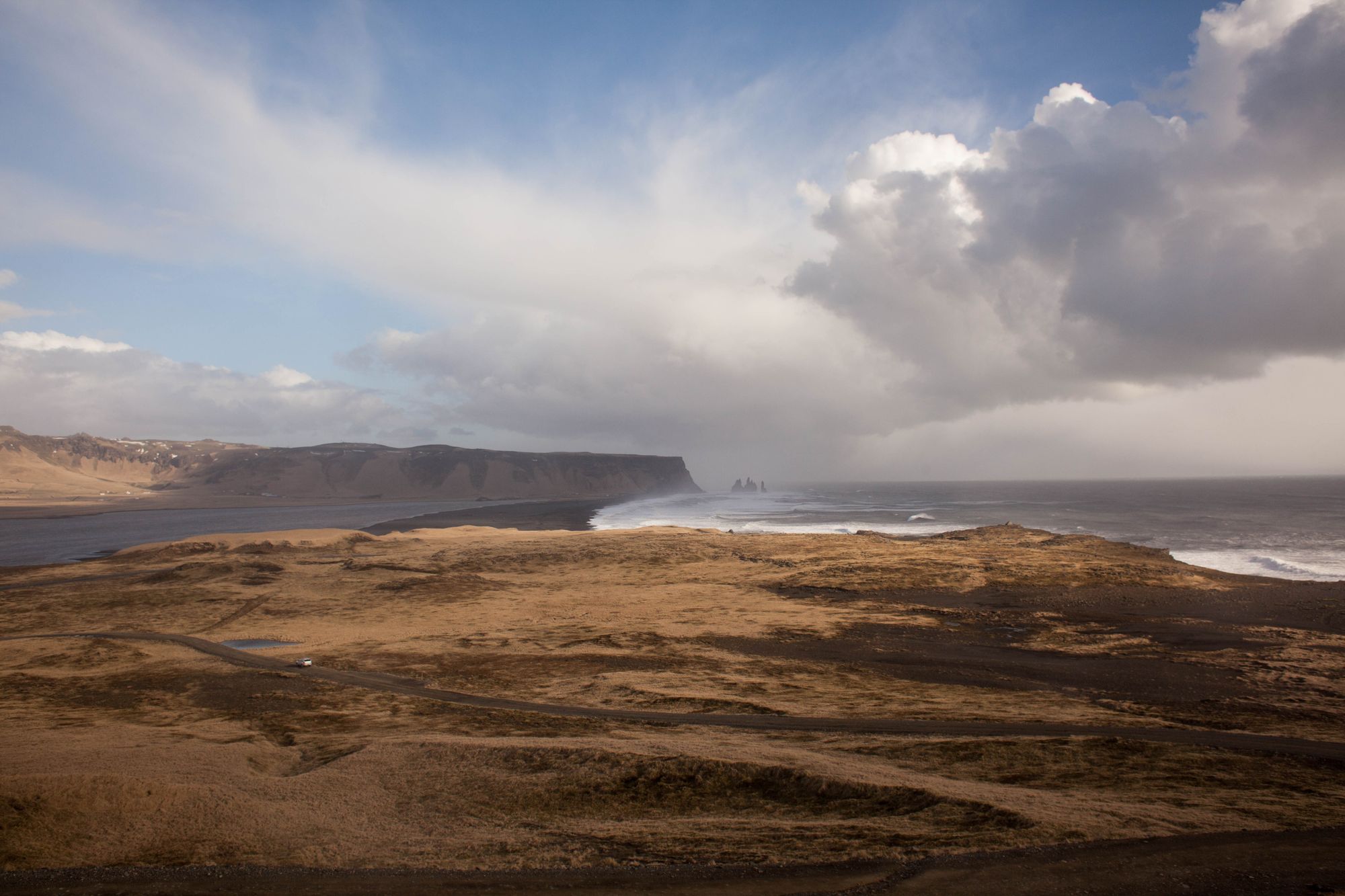 Seljalandsfoss
Another popular waterfall that you can walk behind. It was actually blocked off this day due to the cold temperatures the night before, but we still did it. Got soaked again. Worth it!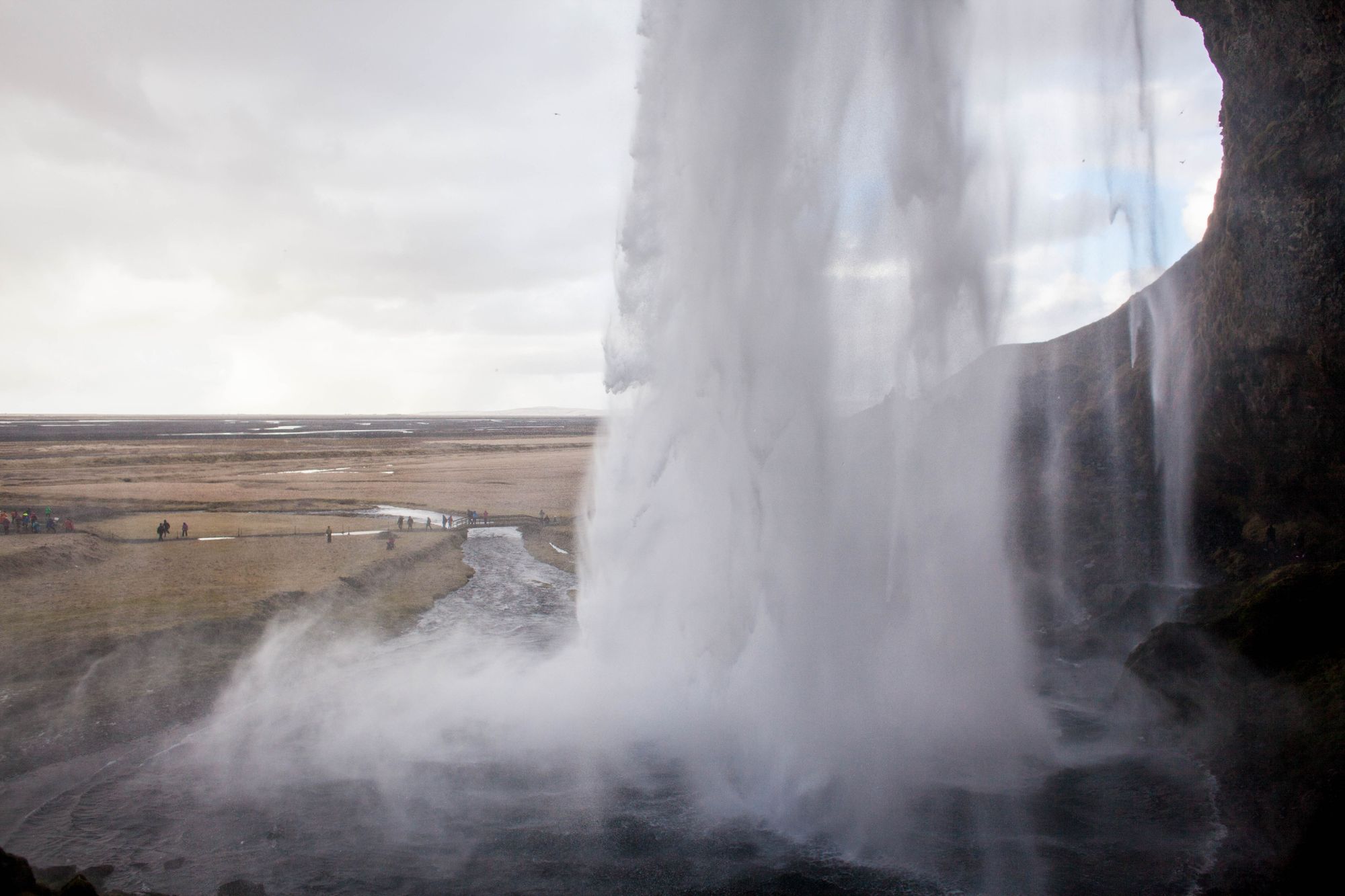 Icelandic horses
On the road home we stopped to meet some lovely horses that came over to say hello. These horses are very small, but Icelanders still call them horses, not ponies. They have a thick winter coat and stay out during the harsh winters. This breed is very special to Iceland, and they don't allow any horses to be imported, or any that leave Iceland to return. Oh yeah––they also eat them!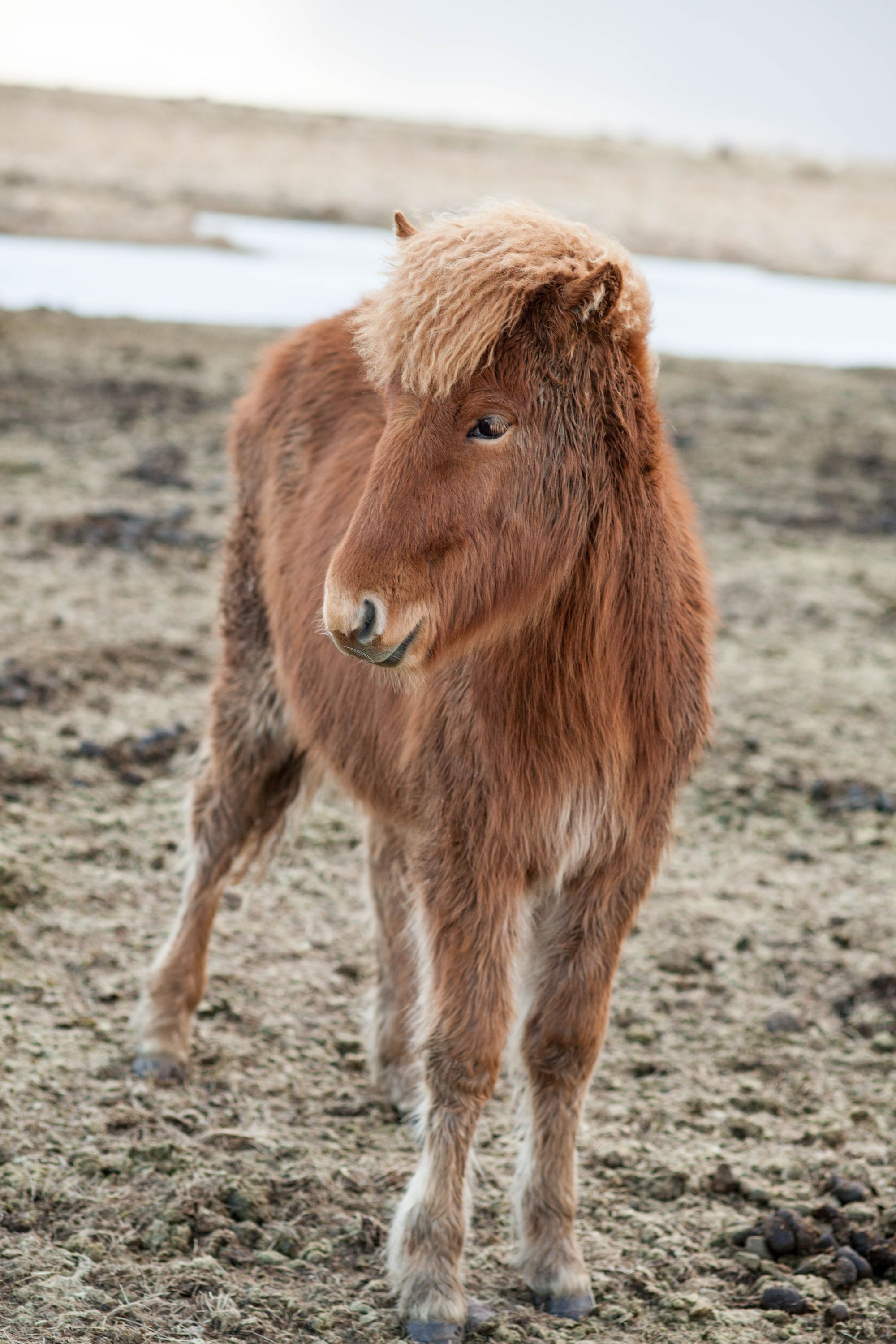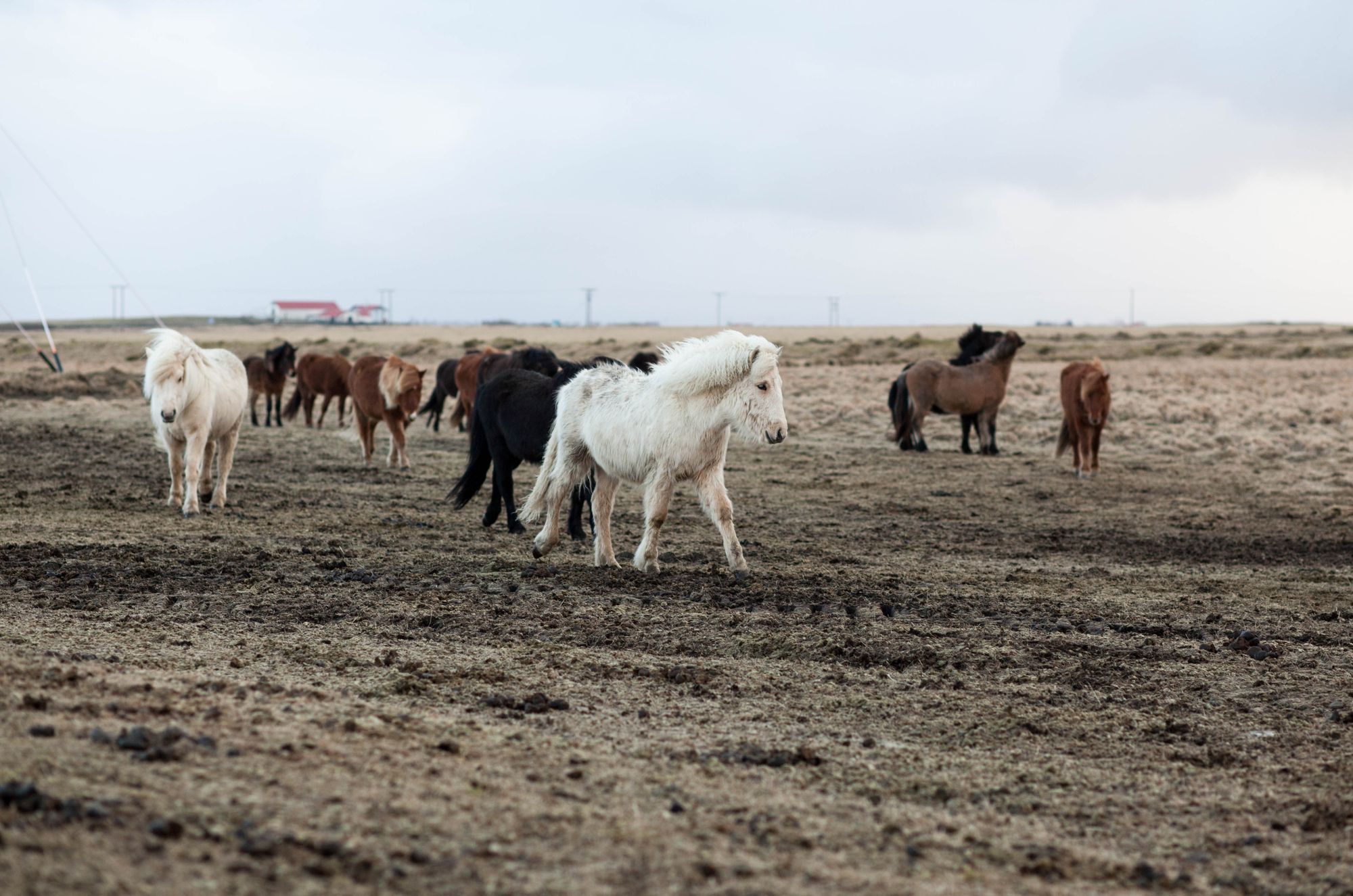 Takk, Iceland!
Iceland has so much to offer and is taking ownership of it's new tourism trade by the horns. This makes it a welcoming experience to go and explore what nature has to offer on this volcanic expanse of land in the North Atlantic.
There is so much to admire about Iceland, something I find a common thread in all Nordic countries. From the fact that most of their energy is from renewable sources, to being at the forefront of gender equality. Icelander's are bold, strong and proud. They survive the cold, dark winters, they celebrate their landscape with great enthusiasm, they have a great sense of humor and a keen interest in the arts.
Everything about Iceland is unique, stunning and astounding––from geography to genetics to culture!