January 3, 2019
Everything I learnt from a year of travel
I travelled throughout the entire year of 2018 - here's all the things I learnt including the things that people never ask about!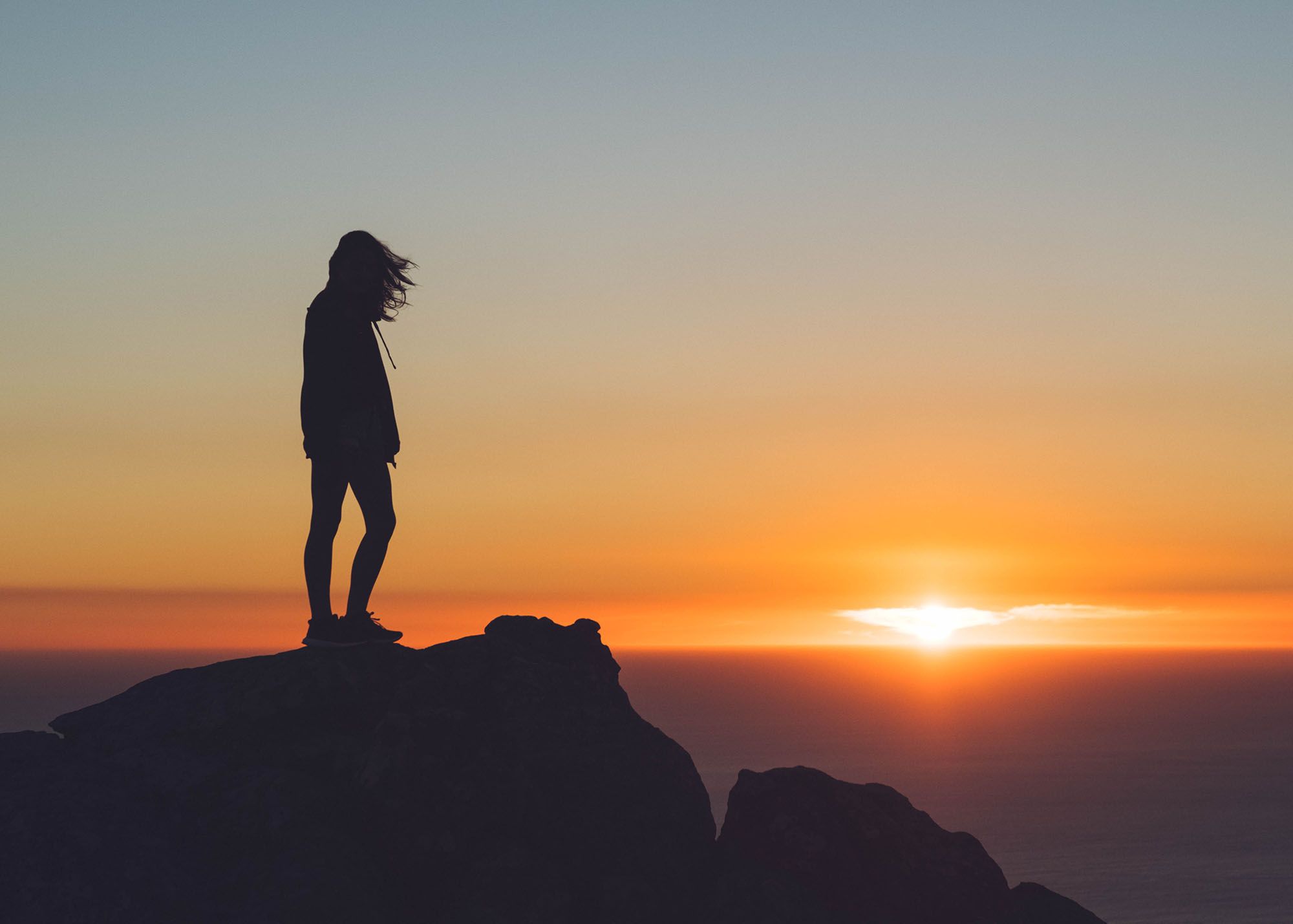 It's a new year and I've been reminiscing the past one, which was spent travelling to 14 countries, making some big career moves, spending time with friends and family, making new friends and solidifying some big future plans.
Resolutions aren't my thing. But a few of the things I am committed to in the coming year include continuing my fitness journey, taking sailing lessons and achieving some big work goals. One thing that remains constant is that I have no desire to stop travelling and moving around. So after more than a year of full-time travel, I thought I would share all the things that I've learnt along the way.
The things that people ask me questions about most often include where to go, where to book flights, what Airbnb's to stay in or what I pack in my suitcase. But if I'm honest, these are the types of things that are the easiest to solve and the most talked about. There's tons of posts out there about finding cheap flights, travel guides and inventory lists of travel swag complete with Amazon links. But there are many more things that I've learnt that I didn't expect to.
Work, income and a safety net
Boring stuff first - there's candy at the bottom of this post, I promise! If there is one thing that you can lock down before you sell everything and leave your home country - make it be your work. Getting a job that is enjoyable, flexible and provides enough income to sustain a travel lifestyle was pretty important for success personally.
I got a full-time remote job which is certainly not the only route, but it's a very secure way to become a full-time traveller. I started my travel life with some savings in the bank, more than enough money put aside for my UK tax bills and an income that allowed me to travel comfortably.
I see a lot of people in Facebook groups chasing the digital nomad dream, or simply wanting to escape something at home, like a job they hate. I don't have any statistics on the success rate of running away and figuring shit out afterwards, but I would hazard a guess that it's pretty difficult to pull off. Or maybe it's just because I would never have the guts to do something like that.
The biggest secret of my success as a travelling career woman is that my motivation to travel was not just because I hated my job and my day to day existence. My motivation to travel was that I simply wanted to travel more. I wanted to leave the UK (there's a Brexit joke in there somewhere) and try living in new places. I definitely was frustrated with all of the jobs I had in the UK in one way or another – but that was motivation to find a better job, not to run away.
I planned and worked hard towards a route that would allow me to travel and still work on my career. This has afforded me the finances and mental bandwidth to embrace everything that travel has to offer. I've made some mistakes along the way, but after more than a year I'm in a better place in every possible way.
Side-note on finances: you need some. It's true that you can live with much less money on the road if you want to. But you still need a safety net for things like visa runs, emergency trips home, medical bills or last minute accommodation. It's not a good idea to live just within your means, since travel can throw unexpected turns.
Less possessions, less worries
I know I just said that I wasn't going to include this, but there are actually a few things I've learnt about material possessions while travelling. Mostly: don't overthink it, you'll figure it out as you go. I started out by getting tips on some essentials from experienced travellers and I've never found myself stuck.
Things I wouldn't travel without
Noise cancelling headphones - I have the Bose QC35's but any high quality headphones will genuinely become your most prized possession for flights with crying children and noisy coffee shops when you need to work.
A roost stand, keyboard and mouse - moving your workspace a lot can get tricky, you have to adapt to different surroundings, chairs and desks and sometimes it can be uncomfortable as hell. Having a roost stand gives you more flexibility to make sure your workspace is suitable and reduces the risk of back ache and RSI.
Kindle - Books aren't an option and if you're one of those types that prefers books (which I am) then you're just going to have to get over it!
Good water bottle - Co-working spaces have water coolers and most coffee shops will fill up your bottle. I use a Swell bottle that keeps water cold for a whole day. Save a fish!
Gym gear - I now travel with some resistance bands and some decent gym wear so that I can do basic exercise anywhere, even if a gym is not available. More on this coming up.
Aeropress - If coffee is your lifeline then it's worth having a decent compact coffee maker. I travel with a seasoned traveller, and he travels with an Aeropress. Thankfully he likes me enough to make me coffee in the morning when I'm cranky, so I'm double-extra lucky.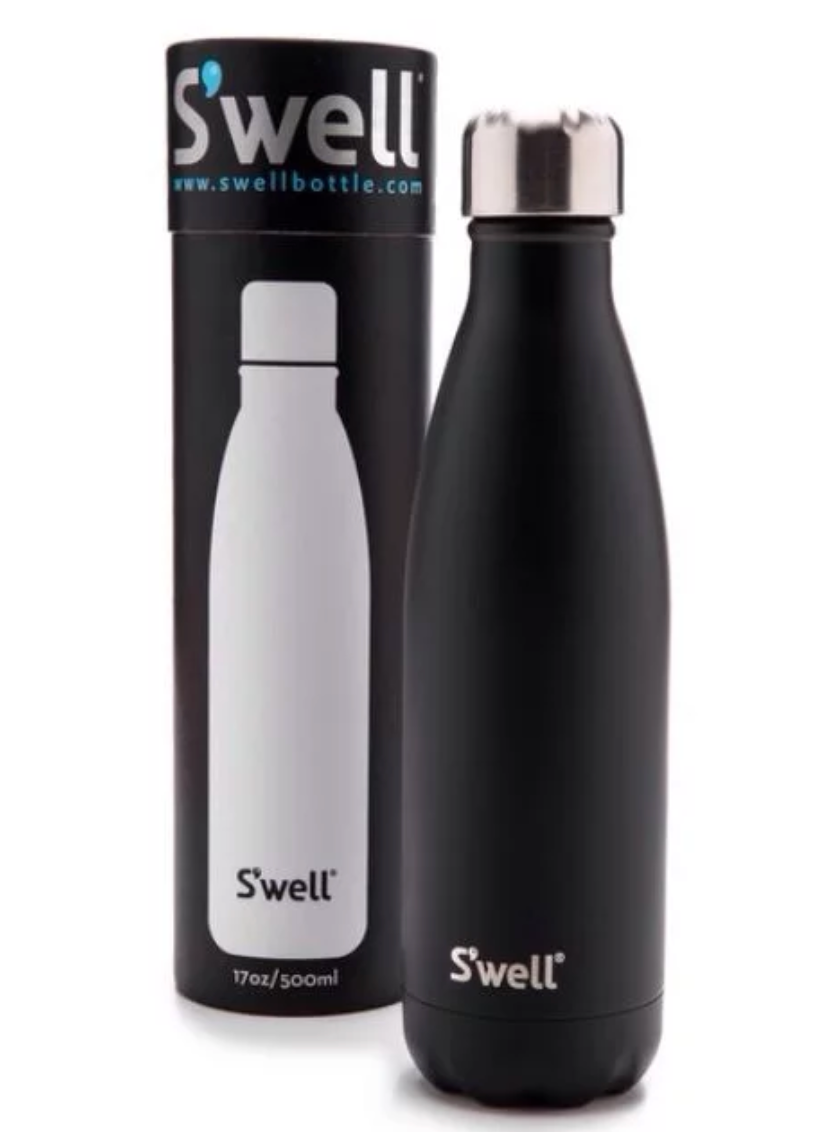 Everything else
Aside from essentials to ensure I can work, sleep and exercise efficiently, everything else is just a constant work in progress.
I rotate my clothes a lot. I have a fancy hairdryer because I like it. I pack a few different types of shoes for hot weather, hikes and working out. I have a large makeup bag and way too many bikinis. You can pack a lot of shit into a suitcase and trust me, you get really good at packing.
I started with just a carry-on which was slightly more stressful, but I was only going to hot countries so it was doable. Since I slow-travel to different climates now, I take a check-in wheelie case. This means I can allow myself some creature comforts and non-standard items. It's not like you get medals for travelling super light, and I like to wear eyeliner and feel sassy 👯
Pack what ever you need, drop things you don't need ruthlessly, and don't sweat the small stuff. You can buy essentials and additional things pretty much anywhere, so it's not worth worrying about.
Stay healthy
When I was still in the UK I was cycling and walking from my house to my desk every day and going to the gym. This all stopped before I even left the country since it took all of my spare time to sell things, settle all of my bills and move out.
I went into travel life with these bad habits and long did they continue. I didn't step foot a gym for several months and because the majority of my time in the first 6 months of travel was spent in Bali I was getting around on a scooter.
I was eating relatively healthy because the food in Bali is insanely good, but I wasn't eating enough and I wasn't moving enough. I don't like to live with regret so this is something I have since rectified, but it's definitely one of my biggest failures from life as a traveller and something I have to actively work on.
Staying healthy, fit and strong can be hard when the parameters of your lifestyle and routine change all the time. Food, access to gyms, weather, timezones - none are consistent. It's not easy to maintain solid routine, diet and exercise when these change. Transatlantic flights wipe me out for days at a time too, but it's easier to power through when I remember the net positive benefits of working out frequently.
Don't compromise on the things that really matter
As an extension of the above, something I wish I recognised sooner was making room for things that are important.
I ended up with more free time – less daily commuting, less house maintenance, less time shopping and I rarely cook. But similar to my exercise woes, it was hard to have the confidence in new surroundings to turn this freedom into something meaningful.
It helped to start with small things and set some manageable goals, such as taking up a new hobby, doing a talk at a co-working space, taking more photographs, trying new things and definitely making sure I speak to my Mum and my friends frequently!
I never thought I would be this person, but saving as much money as humanly possible on flights is often a poor decision. If possible, a better timed flight, a solid window seat and airport taxi's are worth it. I've still never done business-class though, and I've discovered that my ankles swell on long flights so I have to wear really sexy socks 🧦
Plan ahead
Happiness in travel requires being being adaptable. I like to think I am pretty adaptable in general, but travel definitely challenged me in that regard.
It's getting easier since I usually spend at least a month or more in a place, and I'm now circling back to places I already know and love. Even so, a little forward planning goes a long way. A few things I like to know in advance of landing in a new place are:
Visa requirements
Local co-working spaces and/or laptop-friendly coffee shops
Where the best shops and supermarkets and restaurants are
Some basic knowledge of the language
A list of fun activities to do and things to see when not working
Research into the history and culture - it's interesting, useful and respectful to know things about the places you visit before you get there!
I'm still using the Swarm app so that I can check-in to places and remember them for next time!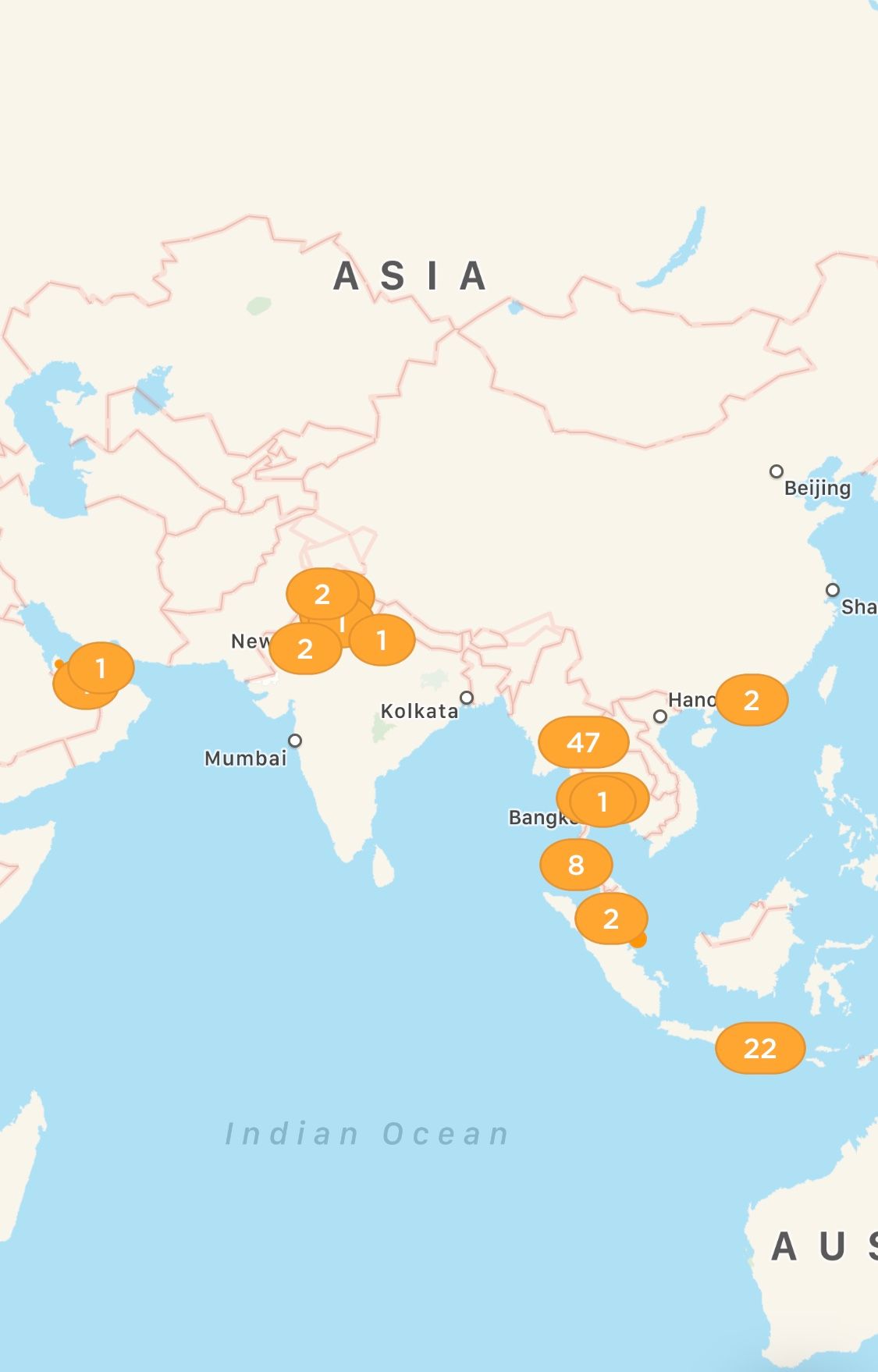 Settling into new surroundings is much easier with research, lists, and pins on a map. Beats trying to figure it all out when trying to juggle work and jetlag!
Take time out
It's so easy to feel like you're always on holiday when you spend most of the year in new locations. Before you know it you've spent 4 months in Bali behind a laptop and then it's time to leave and you're kicking yourself for not enjoying it a little more. Or at least that's how I learnt my lesson!
Remote work can also be an environment where it's too easy to never take a holiday, or if you do, the laptop goes with you. I see a lot of people in co-working spaces who are living that #hustle 16-hour-day lifestyle. Even if you love this, some time out now and then should still be a priority. How else would you enjoy travel life?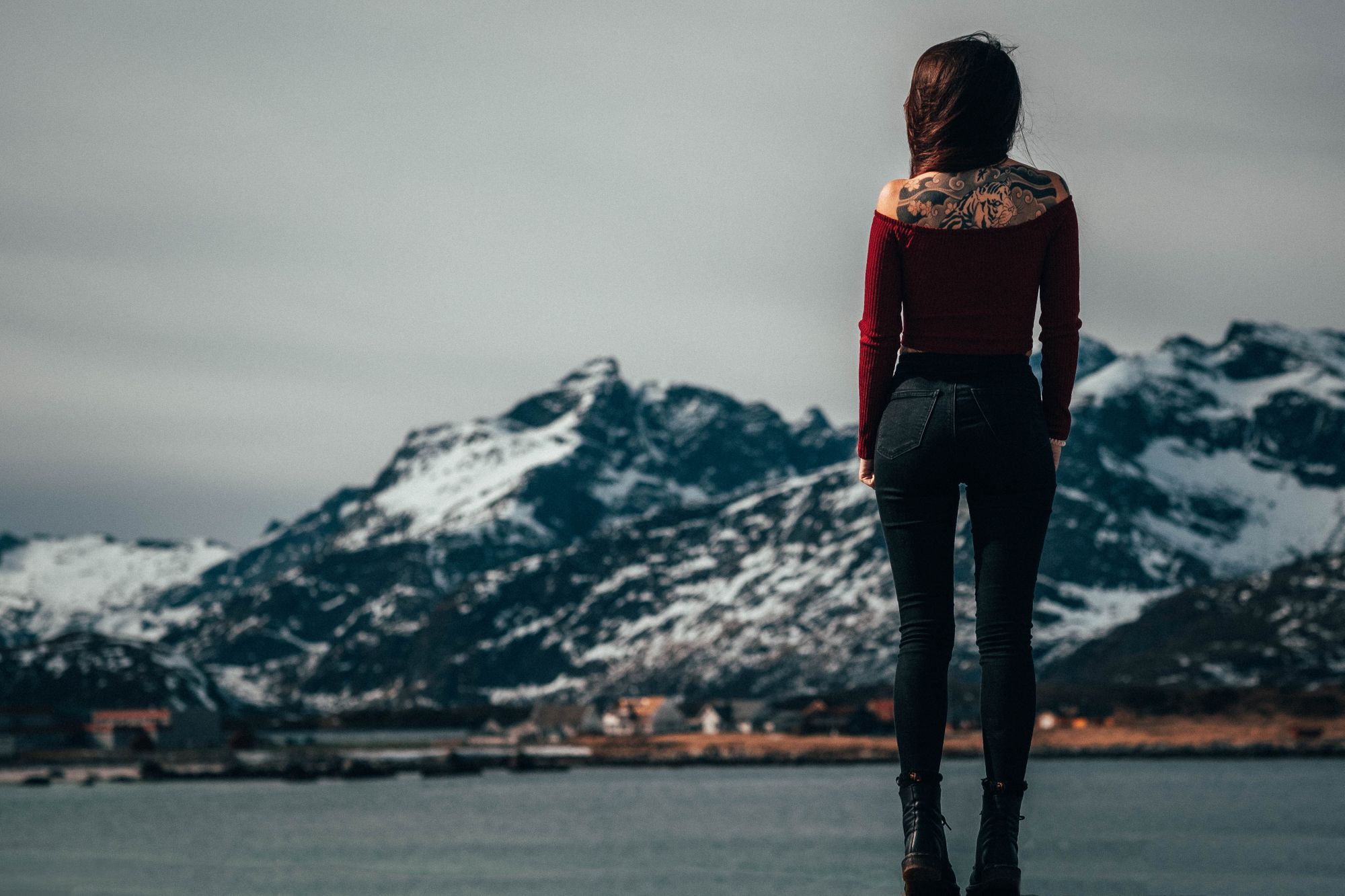 I've made it my mission to go to places that I wouldn't normally visit and take some time out. In 2018 it was a trip to Lofoten. Short breaks really help too, long weekends to explore the place I'm already in is a great way to recharge.
Travel doesn't fix your life
I recently read an article that tells a story of a person who feels trapped in a box of daily experience, only to find that moving to a new place just means you end up in the same box, somewhere else, without your friends and family.
We tend to grossly overestimate the pleasure brought forth by new experiences and underestimate the power of finding meaning in current ones. While travel is a fantastic way to gain insight into unfamiliar cultures and illuminating ways of life, it is not a cure for discontentment of the mind.

– Travel is no cure for the mind
Travel has become my way of life. I love this life right now and I wouldn't change it. People often tell me it looks like I'm living life to the fullest, but I've actually just found a box of daily experience that works for me. Moving around is my normal, and it works because I'm no longer fixated on the things that previously made me feel trapped.
I agree that travel doesn't cure the mind though. My personal internal battles haven't changed and sometimes I'm painfully more aware of them. But my motivation to grow and improve definitely has changed for the better. I'm exceptionally grateful for the perspective that travel has offered me.
AMA
I put feelers out for the types of things people actually want to know so that I could justify this gratuitous ~3000 word essay about having a great 2018! Coming in hot:
What was the most surprising thing you learned about yourself?
What I thought was homesickness at first turned out to be missing friends and family, which can be difficult. But I don't miss "home" as a place or as a concept.
Where do you stay?
Private accommodation and occasionally hotels. There's no point in me sharing which exact apartments I stayed in because availability and price changes so quickly. It's really never been a problem to find a place to live using AirBnb, comparison sites, local short-term rental companies or even asking in Facebook groups.

If you want to find out which neighbourhood I stayed in, or for any tips about a particular place, email me.
Where is your favourite place?
Impossible to choose. I've always loved Scandinavia and that hasn't changed. Vancouver and Cape Town are my favourite cities that I will always circle back to, and I love spending time in Southeast Asia. I've found that I miss things about certain places when I'm not in them, and have found happiness in embracing and enjoying each place for what it is ❤️
Check out my travel route here.
Where else is on your bucket list?
Japan, New Zealand, Fiji, Eastern Canada and Alaska.
Have you been anywhere you didn't like?
Lanzarote.
Where will you settle down?
The S word is a bit of a profanity to me these days. I almost considered doing this in Canada and then back-peddled pretty spectacularly. I don't really know what the future holds (other than wanting to live on a ⛵) and I'm OK with that for now.
What things do you miss about the UK?
I only really miss my friends and family. I've realised that some of the lifelong friends I made in the UK are always going to be my true friends, which does fill me with guilt sometimes. If I make one lifelong friend while travelling I would be stoked - but it's much more transient by nature, so we'll see! I also miss things like Amazon Prime and big Tesco... which is probably for the best.
Why are you still writing about this? I'm bored.
Because I have a crushing anxiety about writing something genuinely useful about my profession, and no one reads this blog so it's a good chance to practice my writing skills. I'm working on it.
---
Here's some candy as promised. If you read this at the top of the post, immediately scrolled to the bottom and are now about to leave, I salute you!