November 29, 2017
Swimming With Turtles On Gili T
Often confused for being a part of Bali, the Gili islands are in fact right next to Lombok, Indonesia.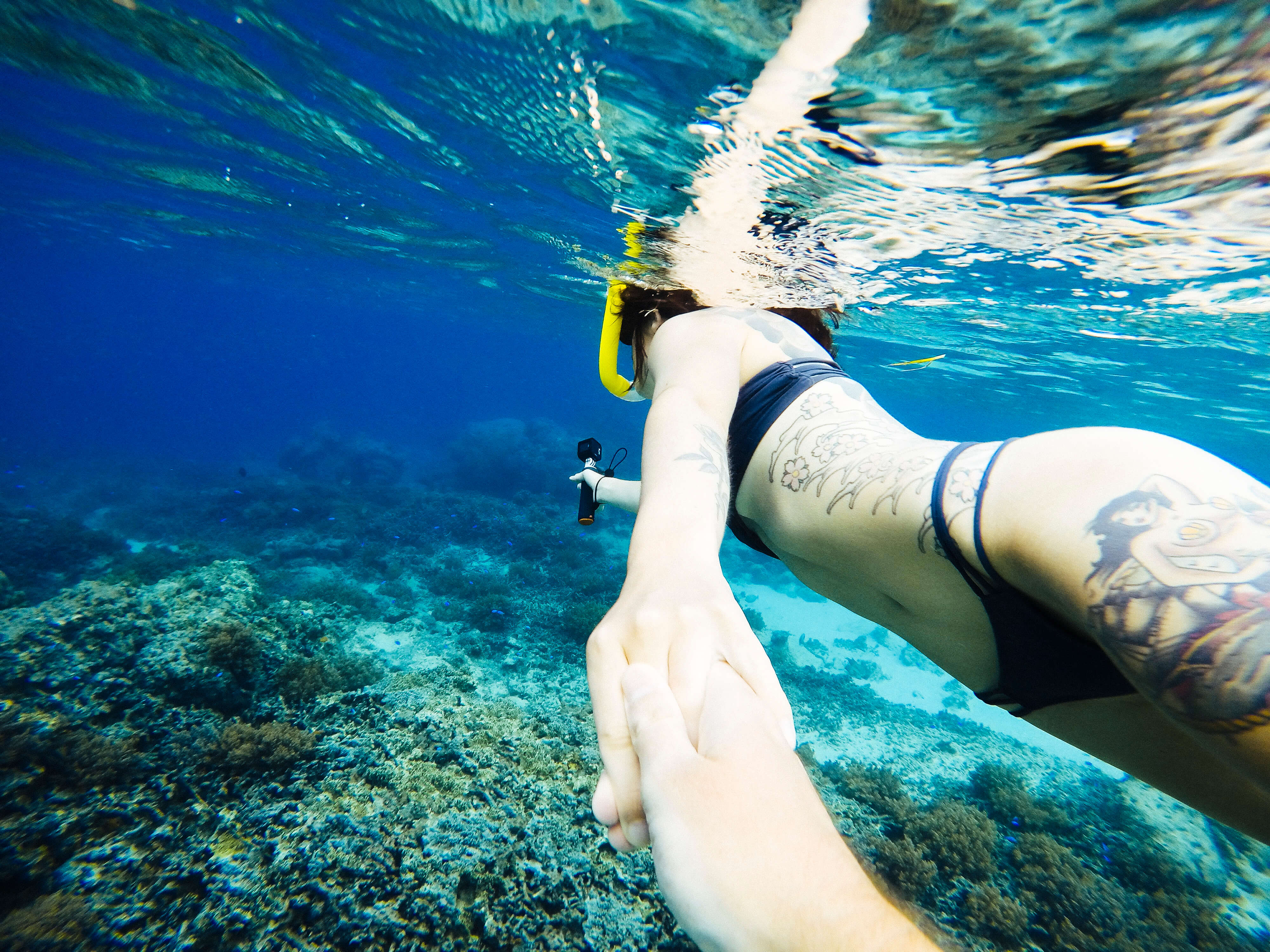 I had such a great travel experience heading over to the Gili islands, Lombok, for John's 30th Birthday.
We left bright and early on the Saturday morning from Canggu Bali, and John had no idea where we were going. It was a surprise and I was just as surprised that he didn't spot the "Gili Getaway" logo on the drivers t-shirt.
We were driven to the harbour, where we quickly took some Dramamine (I had heard the seas can be rough) and then took on a 2.5 hour "fast" boat to Gili Trawangan.
Often confused for being a part of Bali, the Gili islands are in fact right next to Lombok, Indonesia. There are three small islands, Gili T being the largest, with the most development and sometimes known as the party island, Gili Meno, known as the honeymoon island, and Gili Air, the smallest and most untouched of the three.
I had planned for a few things when we got there but largely left it open. I wanted to rent bicylces, explore the beaches, relax, drink some wine and most of all, swim with turtles.
First Day
Arriving just after noon, we checked in to the Mango Dive Bungalow which provided the cutest surprise in the way of petals on the bed spelling out happy 30th birthday.
I was really pleased with this place, it was slightly out of the way from the busier parts of the island, but still in walking distance, and the staff were really nice. Plus the beach on this part of the island is very quiet, especially in the mornings. On the first day we walked around a little, had some drinks by the sea.
The pace on the island is pretty relaxed, so we just walked around a little, had some drinks by the sea and then went to a really nice beach bar called PinkCoco. They had amazing bose sound system and some awesome music playing. Wine was flowing, spicy vegetarian local dishes were on point, and then they put a movie on a projector. On the beach!
Real talk!
As a long-term veggie with a keen interest in animal rights I was worried about the welfare of the ponies. I didn't actually see any that looked in a bad way, but I have read some articles that suggest they are. There is also a non-profit working to help the horses of Gili. Prices for a tourist to take horse and cart are pretty high (compared to local living costs), so I hope this is to keep them well fed and looked after.
As there are no motors on the island, locals have been using these ponies as part of their livelihood, so it's a difficult thing to have a strong opinion about. I just hope conditions have improved for them!
Sunrise Golden Hour
The next day we decided to get up for sunrise (which means getting up at 5am). It hurt, a lot. But it was really nice to take some photos at the crack of dawn and then nap on a lounger on a quiet beach. This is what island life is all about.
Breakfast was served at around 7.30am, then it was time to spend the day relaxing and finding sea turtles. There are plenty of spots on the island where I think you can swim with the turtles and you only have to snorkel out for about 15 metres. We chose a spot just north of where we stayed, right before the apex of the island.
It was such a nice spot, there was no one else there other than a group of locals who were drinking, eating pizza and chilling out. The sun came out and the snorkeling was amazing.
Swimming With Turtles
The first swim we saw an abundance of fish, but on the second trip we managed to find a huge older turtle hiding in the sand just where the reef disappeared into the depths. Then we bumped into a beautiful younger turtle who swam alongside us for a while. They are obviously used to people and I even managed to swim alongside on and go up for air together. Incredible!
Kittens
When we got back to the room, as if my lucky stars were all aligned, there were two kitten's and their mother playing outside. Obviously more photos (and lots of squeeing) ensued.
In fact, there were so many cats on the island, which was a very welcome feline based injection of happiness to my life.
Exploring the West Coast
After such an awesome, relaxing day, a quick shower was in order before taking the bicycles to the other side of the island. Here we stumbled right into a Presean, or Stick Fighting tournament, with big crowds and lots of smiles.
I also tried my luck on this side of the island with climbing onto one of the many swings that are set up out at sea. Getting up there was far less attractive than this photograph.
Tourists complaining about tourists
The only downside to Gili T is that is is quite touristy (I know, what a hypocrit), but it did not live up to it's reputation as a party island from what I saw. It does have that unique island quality of having no cars or scooters - only a few electric ones. But in the busier parts it was quite busy and hectic.
You really don't have to go very far to find tranquil peace though. A short bike ride does the trick. Plus, I have heard that the other two islands are even quieter so if you have the time it would be worth checking those out too.
Words aren't quite as good as a video, so check out John's awesome footage from our trip:
➡️ I think we will check out Nusa Penida next! (Edit: or maybe not, there's a volcano situation)